Hello, lovebirds! Welcome to Premier Events Center in Clinton Township, MI. We're your trusted ally in navigating the thrilling yet sometimes labyrinthine world of wedding planning. One aspect that can seem like an uphill battle is the wedding budget. But worry not! We're here to simplify it, making it feel less like a chore and more like an exciting part of your journey to the altar.
Join us as we share our top tips on budgeting for a wedding. We'll walk you through the basics and provide you with a few creative ideas to make sure your dream day doesn't break the bank.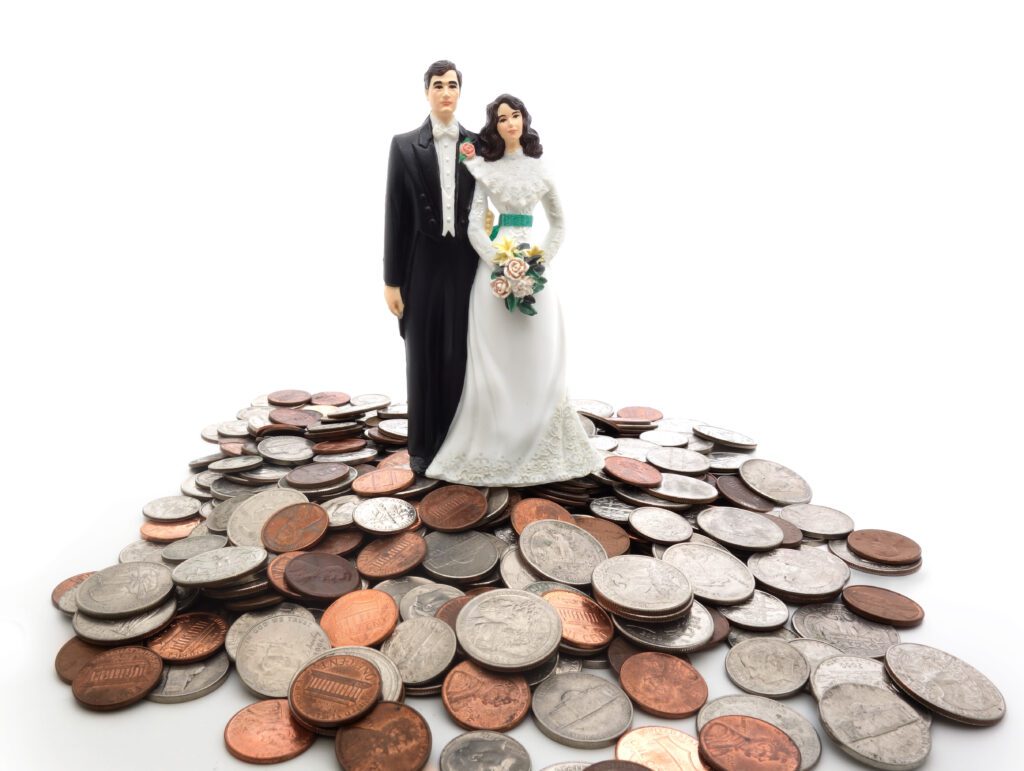 The Importance of Wedding Budgets
Before we delve into the nitty-gritty, let's establish why budgets for weddings are so crucial. It's easy to get swept away in the whirlwind of planning the perfect wedding and lose sight of your overall wedding budget.
But remember, an enchanting wedding doesn't have to drain your savings. In fact, a thoughtfully planned wedding on a budget can be just as memorable and magical.
Think about it this way, when you're on a tight budget for your wedding ceremony or reception, you're forced to be more creative and strategic in how you allocate your funds. You'll also ensure that all your expenses are truly necessary – like the caterer, photographer, and DJ – rather than just whimsical items or services. And, since anyone planning a wedding obviously wants to get the most bang for their buck, researching and comparing vendors and services is key.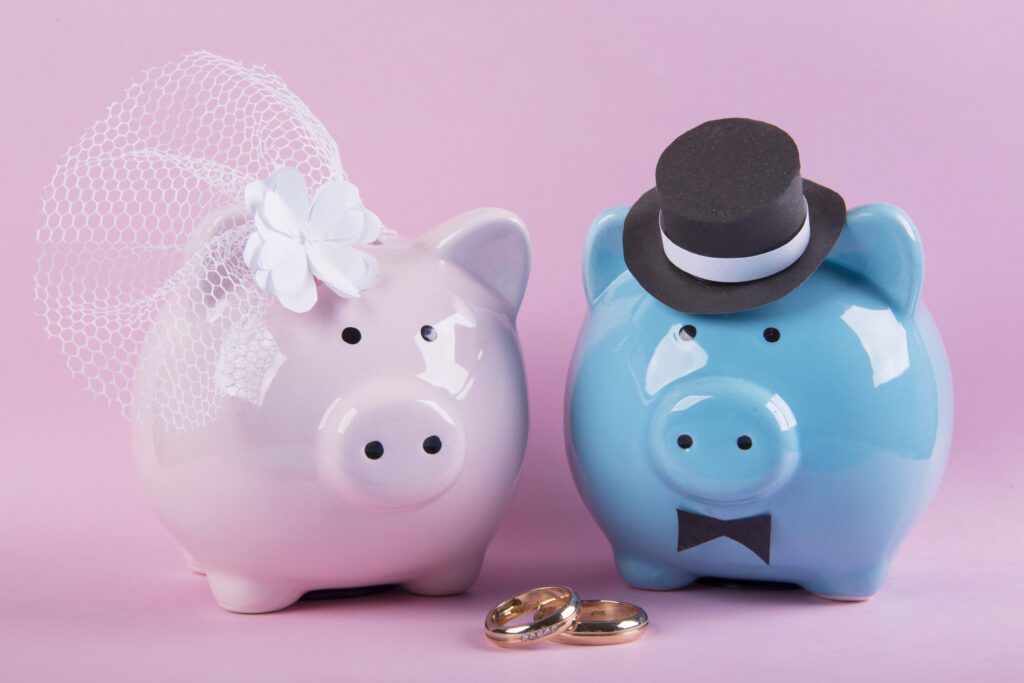 The Anatomy of a Wedding Budget
Planning a wedding can be both exciting and daunting, particularly when it comes to budgeting. The key to navigating this challenge is understanding the various components that make up the total wedding cost.
Let's delve into what an average wedding budget breakdown of the major categories typically included in a wedding budget looks like.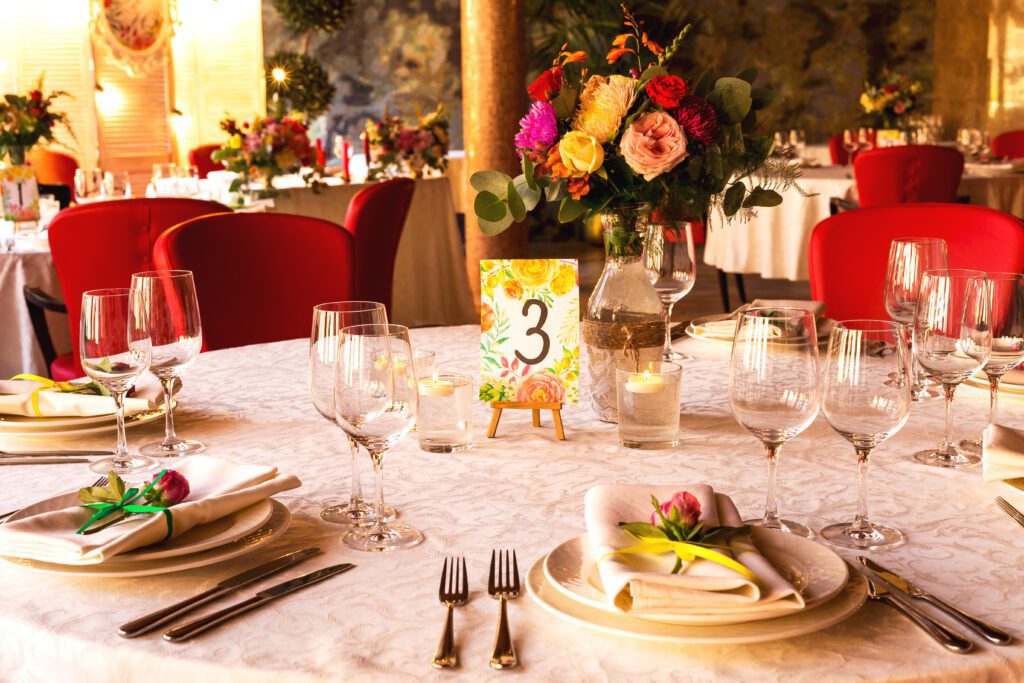 Reception Venue
Arguably the most substantial wedding expense of any average wedding ceremony, the reception venue's cost is influenced by factors such as its location, the size of your wedding party, the number of guests on your guest list, the date you choose for your wedding day, and the range of amenities provided by the venue.
Your choice of reception venue can significantly impact the overall ambiance and experience of your wedding ceremony, so it's crucial to allocate a considerable portion of your wedding budget breakdown towards this.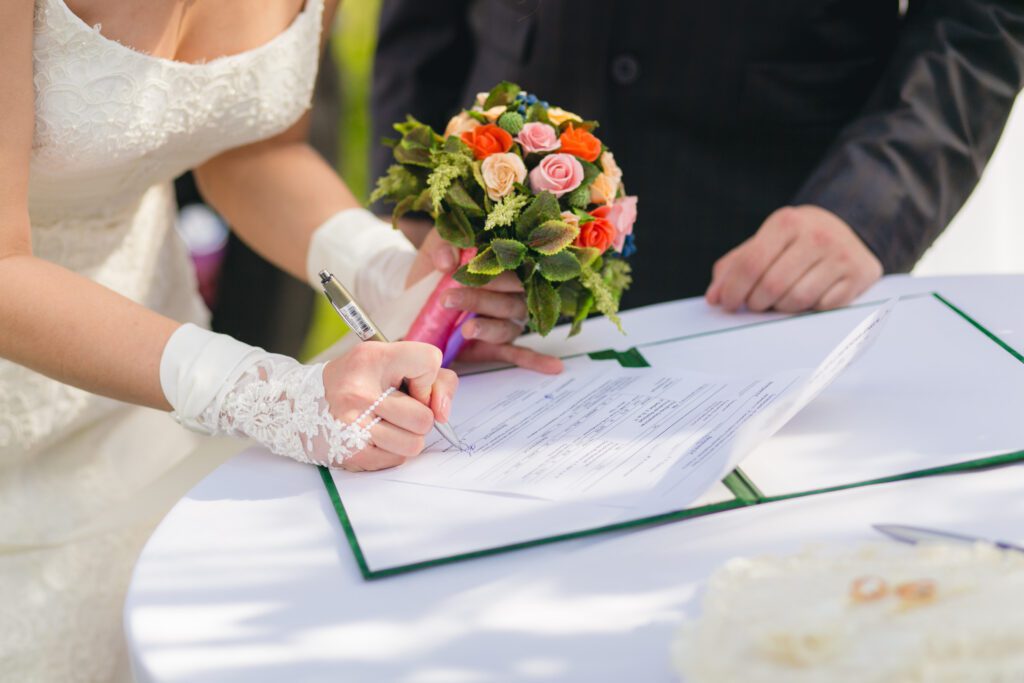 Marriage License
Before you exchange vows on your dream day, be sure to apply for a marriage license so you can legally marry your betrothed! Requirements vary state by state, so make sure to check with your local government office to confirm all necessary paperwork.
A marriage license usually costs between $50 – 70, depending on location, so be sure to add this to your wedding budget breakdown.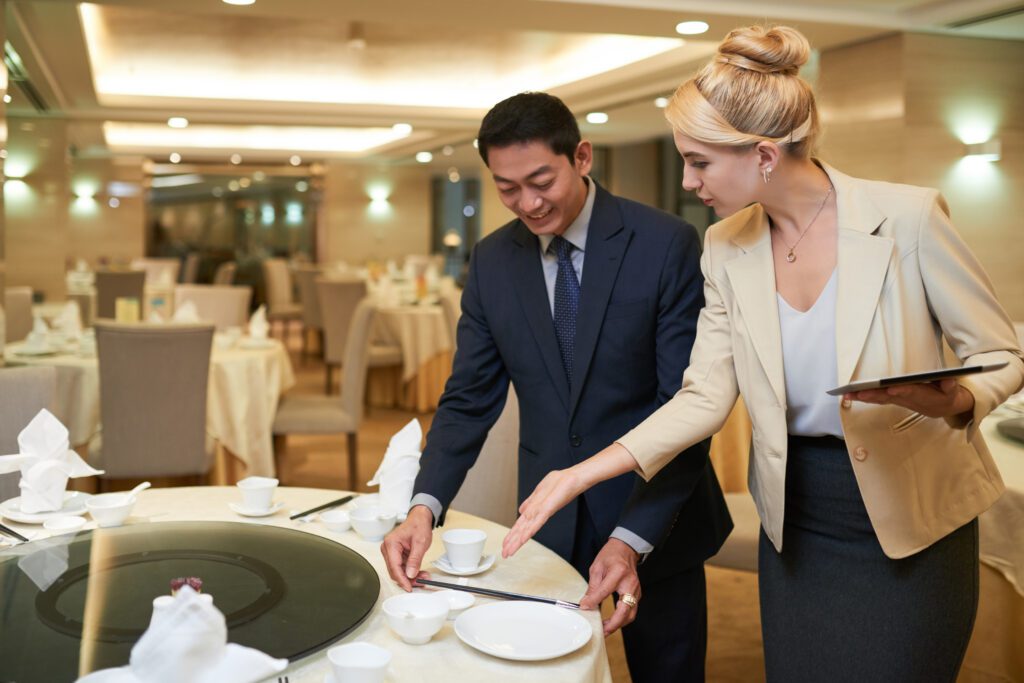 Wedding Planner
Investing in a professional wedding planner can greatly simplify your planning process and potentially save you money in the long run. These professionals have the expertise to negotiate deals with other wedding vendors and avoid hidden fees, ensuring you get value for your money while reducing stress about the cost of a wedding.
They also have other hidden talents, such as advising which wedding expenses you can skip in favor of a DIY night with your wedding party and close family members to save money on your total wedding budget.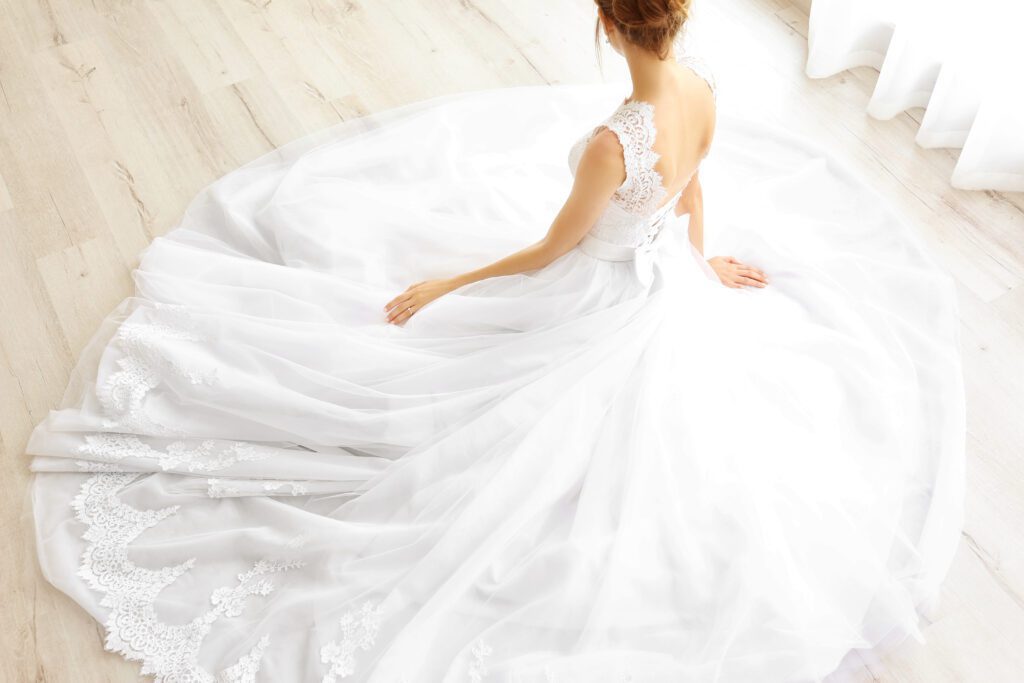 Wedding Attire
Wedding attire extends beyond the bride's dream dress and the groom's suit. It also encompasses accessories, potential alterations, and perhaps a separate wedding dress for the wedding reception. Each element contributes to the couple's look on their special day, so it's worth factoring these costs into your overall budget.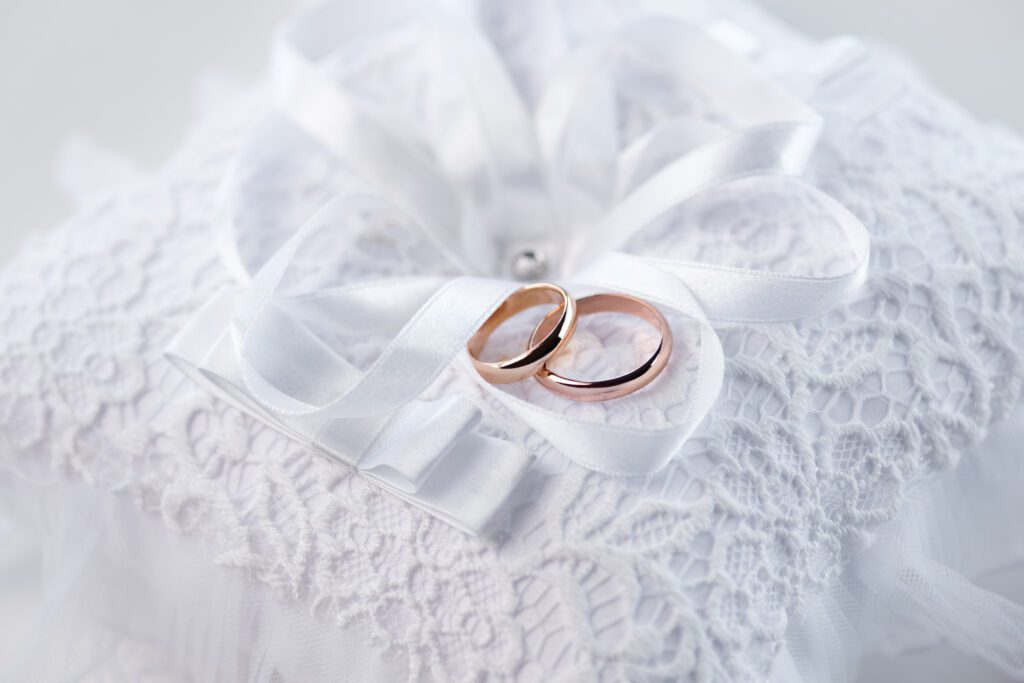 Wedding Rings
Your wedding bands symbolize your enduring commitment and can range from plain wedding bands to intricately designed pieces adorned with precious stones. The cost of wedding rings will vary depending on your taste and the level of customization involved, but this is another of the top wedding expenses that should be included in your total wedding budget when figuring out the wedding cost breakdown of the average wedding.
Thankfully, the engagement ring should already be taken care of, right?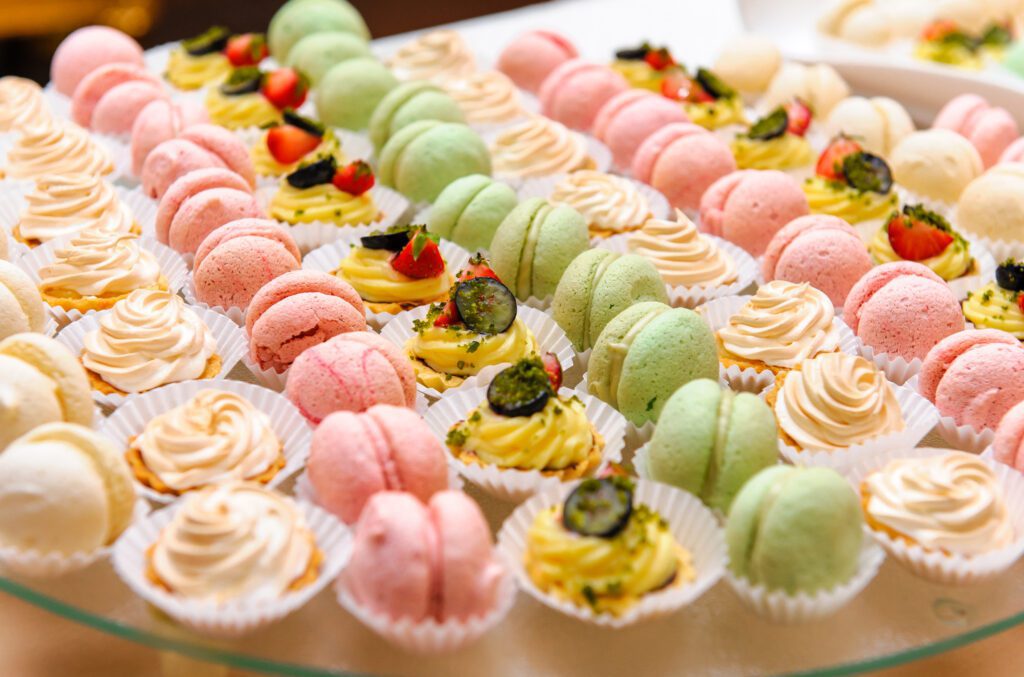 Catering Package
The food and drink at your wedding often account for a large part of the total wedding budget. Many factors go into choosing the perfect wedding catering package, from choosing the menu to selecting the right caterer.
Be sure to allot a realistic catering cost into your wedding budget that caters to all aspects of your chosen cuisine, including accounting for any allergies for your friends and family members. You should know the estimated costs of your catering bill before the big day!
Don't forget to include costs for cocktail hour and passed hors d'oeuvres, as these can add up quickly. Some couples skip paying for cocktail hour for guests with an open bar, but giving your guests a snack or two before dinner is served is nice.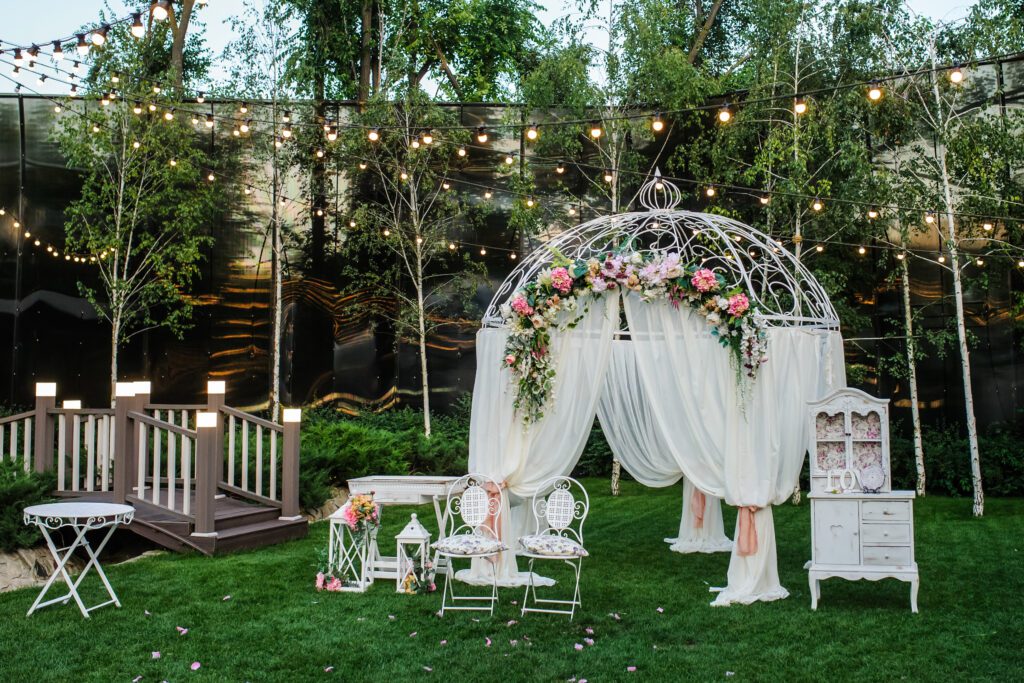 Furniture Rental
If your chosen venue doesn't provide furniture or if you're after specific pieces to match your wedding theme, you'll need to set aside a portion of your budget for furniture rentals.
Your wedding will require chairs for the ceremony, tables for the reception, and possibly a dance floor. Your chosen venue might offer a package deal, so be sure to compare the prices of the various vendors in your area and select the best option for you.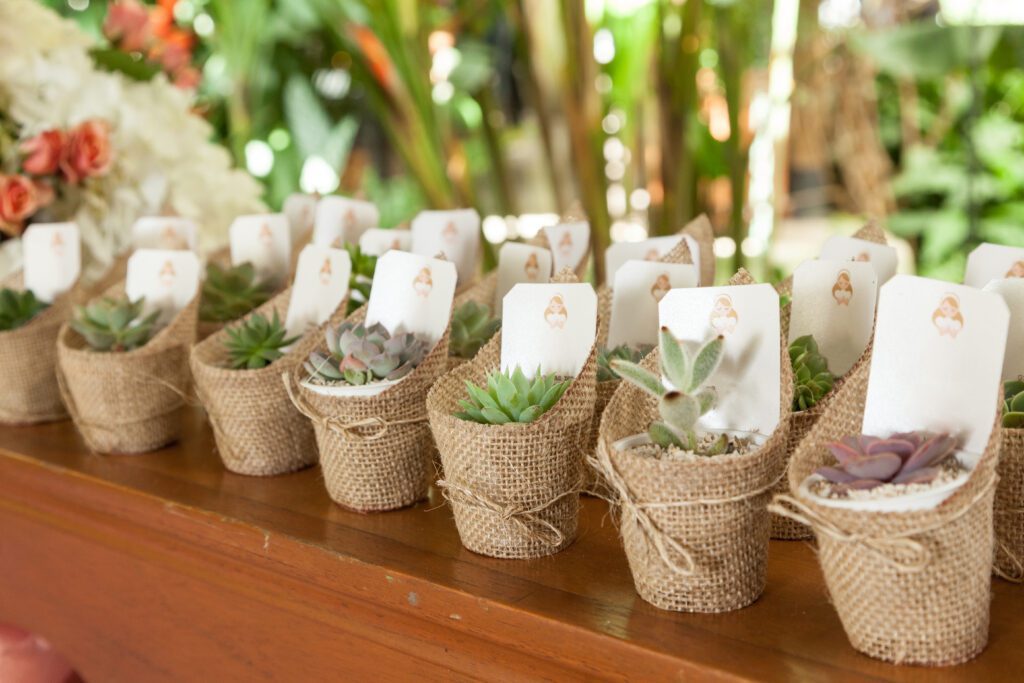 Wedding Favors
Wedding favors are a thoughtful way to thank your guests for their presence. The cost of these can vary greatly depending on what you choose to give. While an expensive item can be a nice touch, small tokens like personalized mementos or edible treats are just as appreciated by your guests.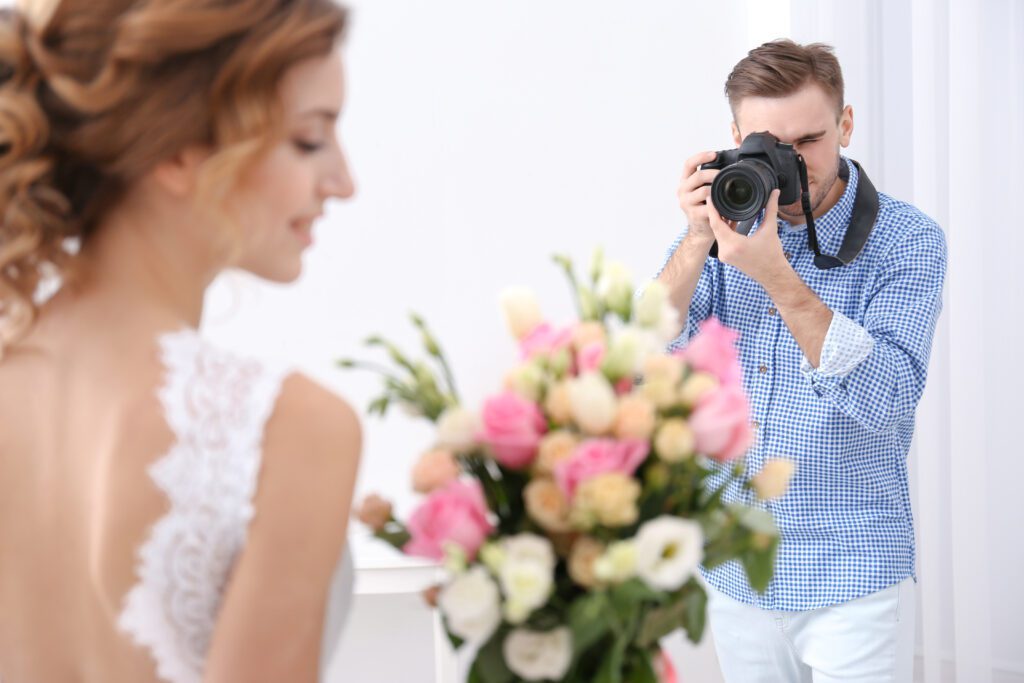 Photography & Videography
Locking in a photographer and videographer who captures the essence of your special day is an essential component of any wedding budget. If you skip the family photos and hire professionals, you can be sure they'll capture timeless memories for you to share and cherish for years to come.
These professionals typically charge hourly, so you should factor this into your wedding budget breakdown. If you can afford it, consider renting a photo booth for the ultimate fun-filled experience during cocktail hour!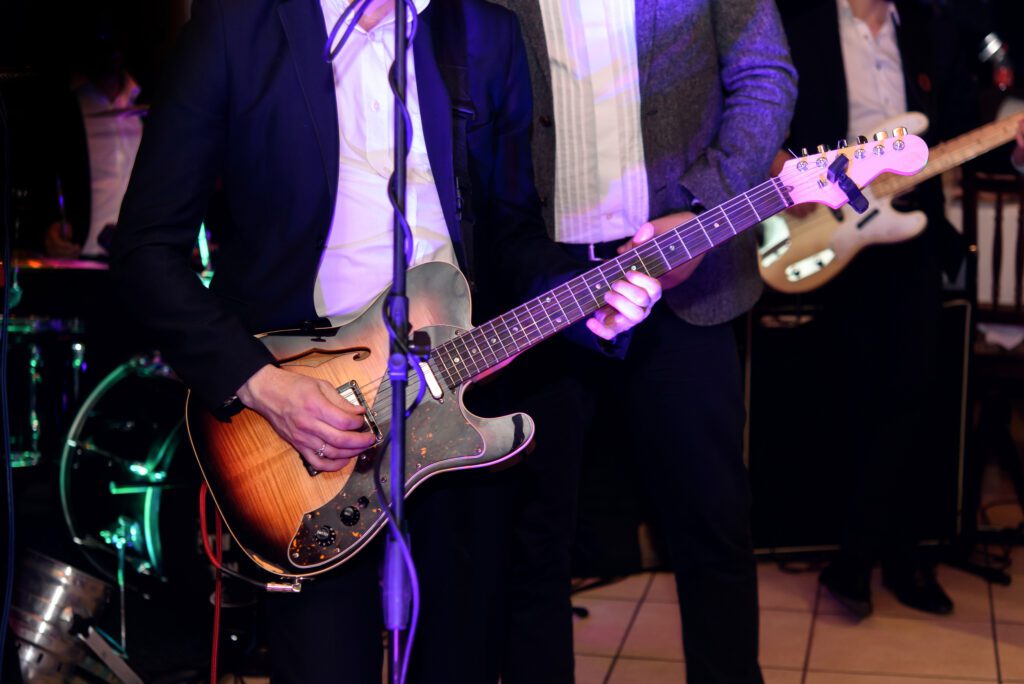 Music & Entertainment
Finding the right DJ or live music for your wedding reception is a great way to set the tone and keep your guests entertained throughout the night. Along with the cost of your chosen entertainment, you'll also need to factor in lighting, sound systems, and other effects.
Whether you choose a local band, a DJ, or a mix of both, make sure to thoroughly research the cost of each option before adding it to your wedding budget breakdown.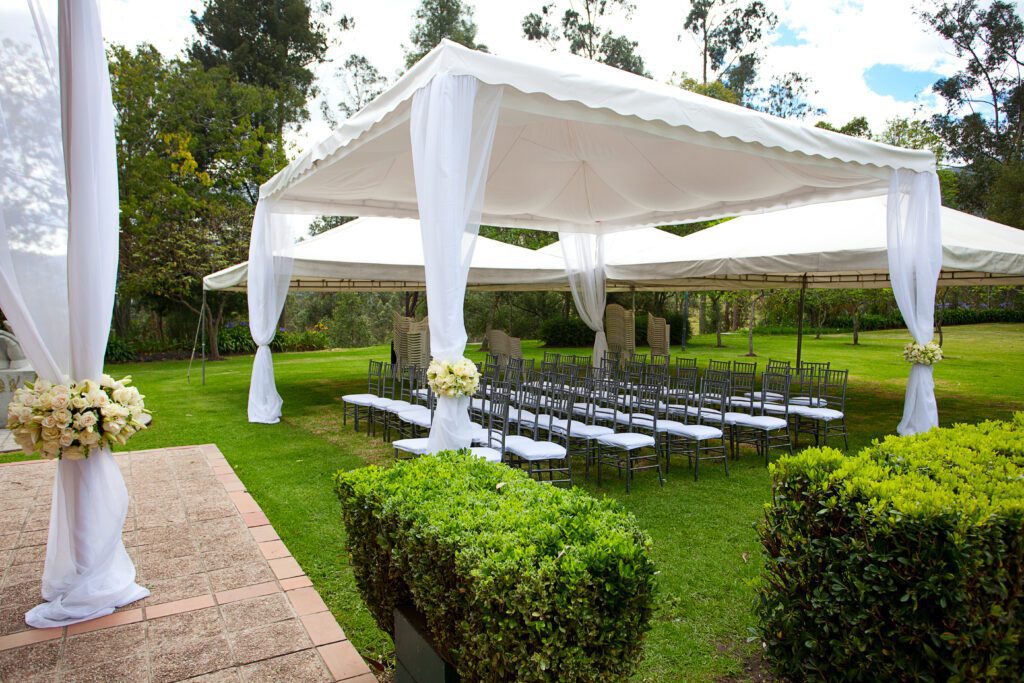 Separate Rentals Company
You may need to engage a separate rental company for additional items such as linens, lighting equipment, or a tent for outdoor weddings. This is another aspect to consider when setting your budget.
This list is not exhaustive but offers a comprehensive starting point for understanding the average wedding cost breakdown. Remember, your wedding budget breakdown will differ based on your personal preferences, the number of guests, the pricing of your selected vendors, and other factors. It's all about creating a memorable day that aligns with your vision and total wedding budget.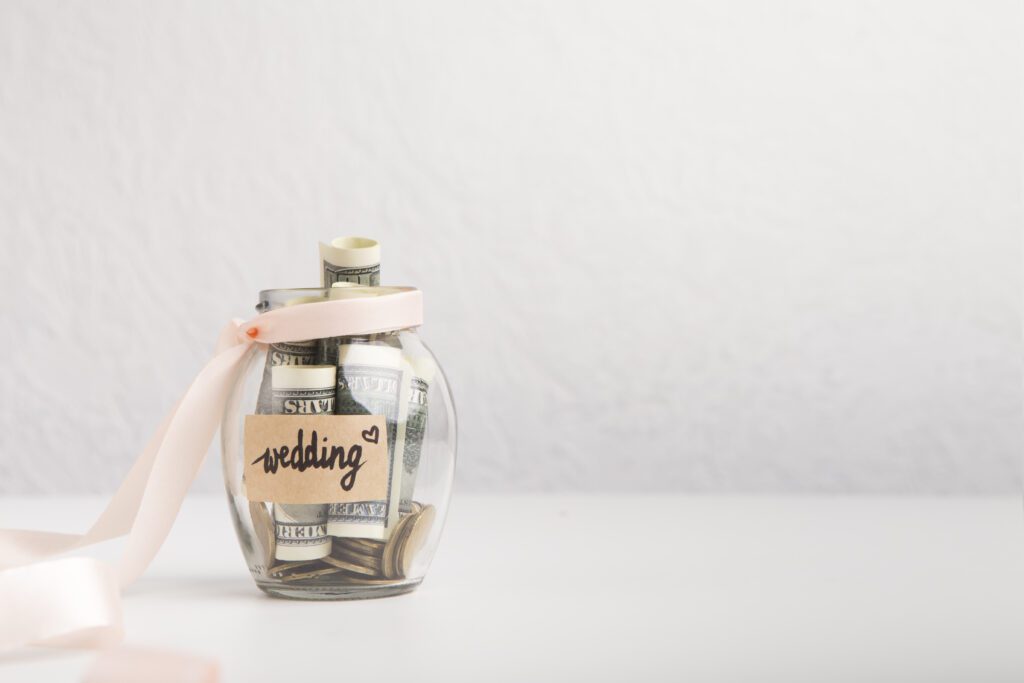 Beware of Hidden Wedding Costs
While creating your wedding budget checklist, be sure to account for hidden costs. These are expenses that may not be immediately apparent when you start planning. For example, the actual cost of your reception venue might not include a dance floor or furniture, necessitating you to hire a separate rentals company.
Moreover, unexpected expenses like service charges, overtime costs, and vendor meals could occur. And don't forget about smaller items like the ring pillow, ceremony programs, or welcome bags for out-of-town guests. All these details can add up, so make sure to factor them into your total budget.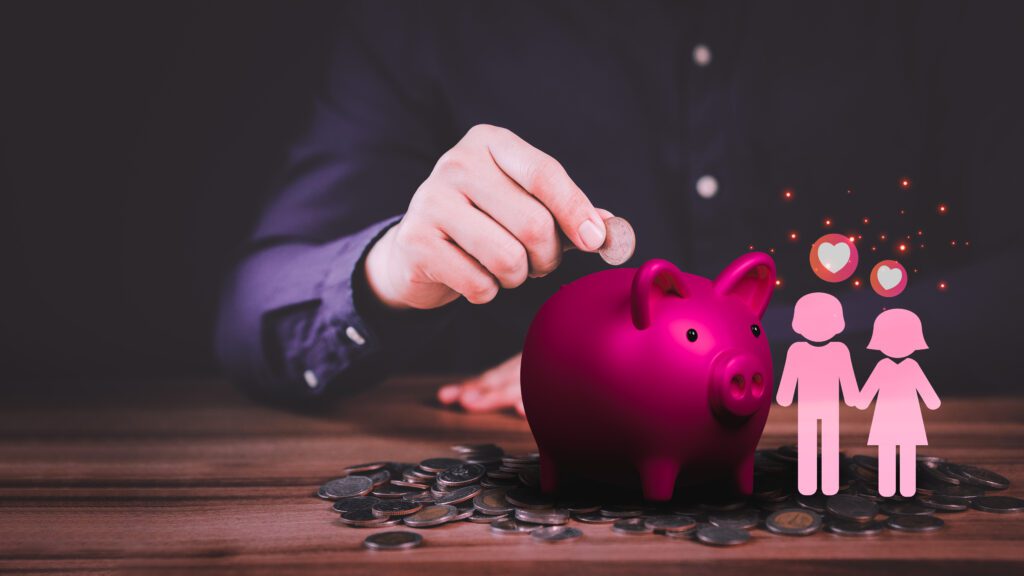 Smart Ways to Maximize Your Wedding Budget
Now that we've covered the basics of wedding costs, let's discuss how to stretch your dollar further. Here are some ingenious ways to get more bang for your buck and keep costs in check without compromising on the quality or charm of your big day: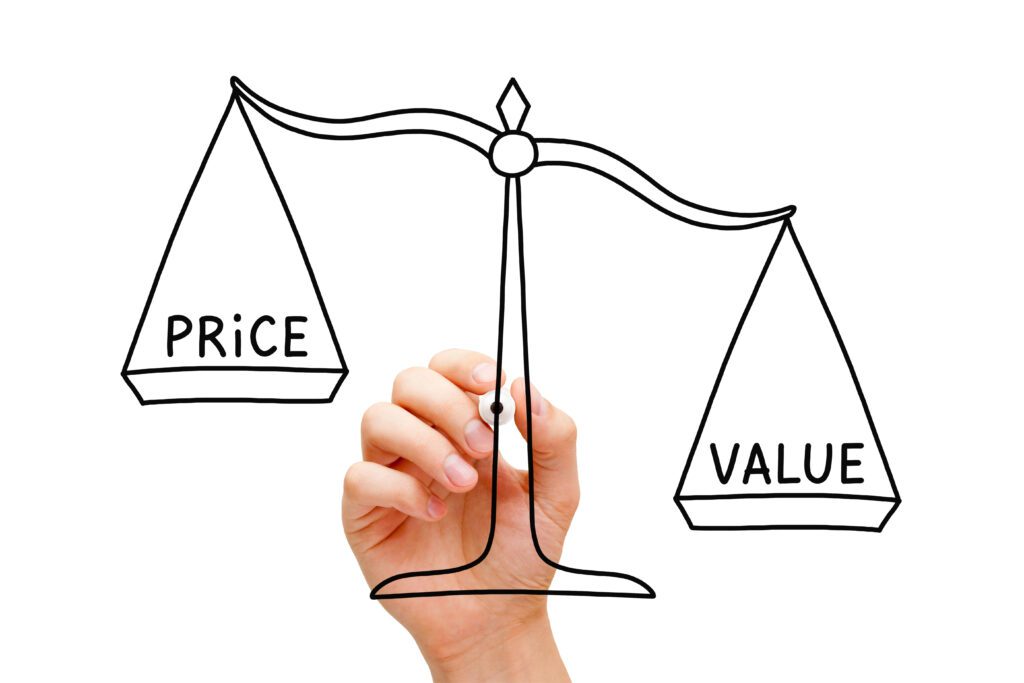 Compare Prices
Not rushing into commitments with the first vendor you meet is essential. Instead, take the time to shop around, obtain quotes from multiple wedding vendors, and compare their offerings. Remember, negotiation is part of the process – don't hesitate to discuss prices and potentially secure a better deal.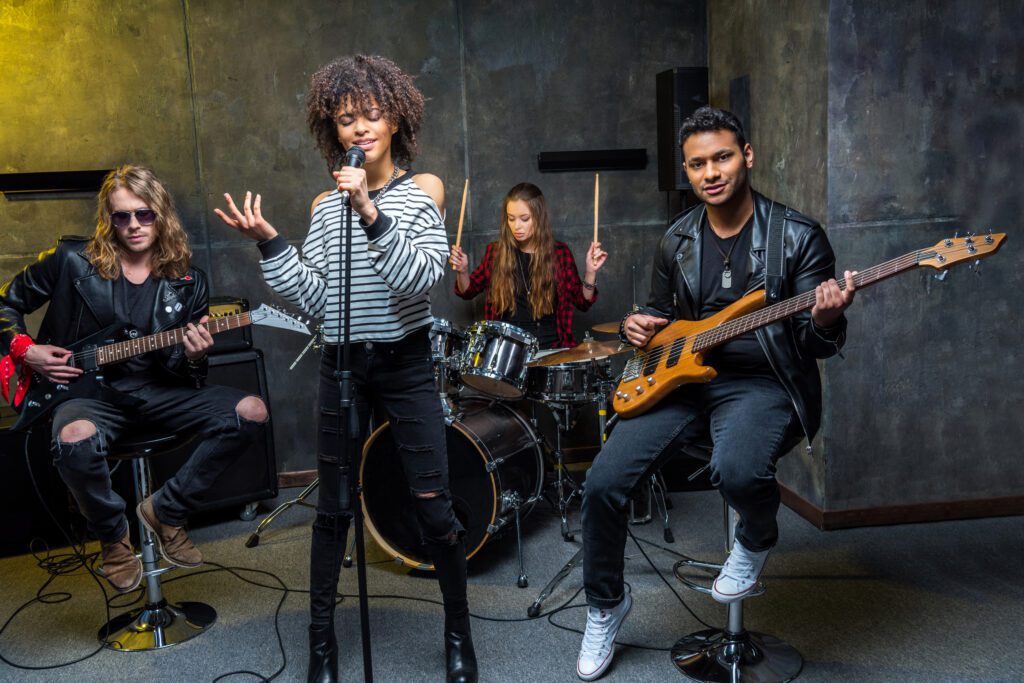 Hire Your Friends Band
This is Detroit; everyone has a friend that's in a band! If you have a friend or family member in a band, why not hire them instead of shelling out cash for live music you've never heard of? You'll be supporting your friends, and they may even give you a discount! (In which case, leave money in your wedding budget to tip them well!)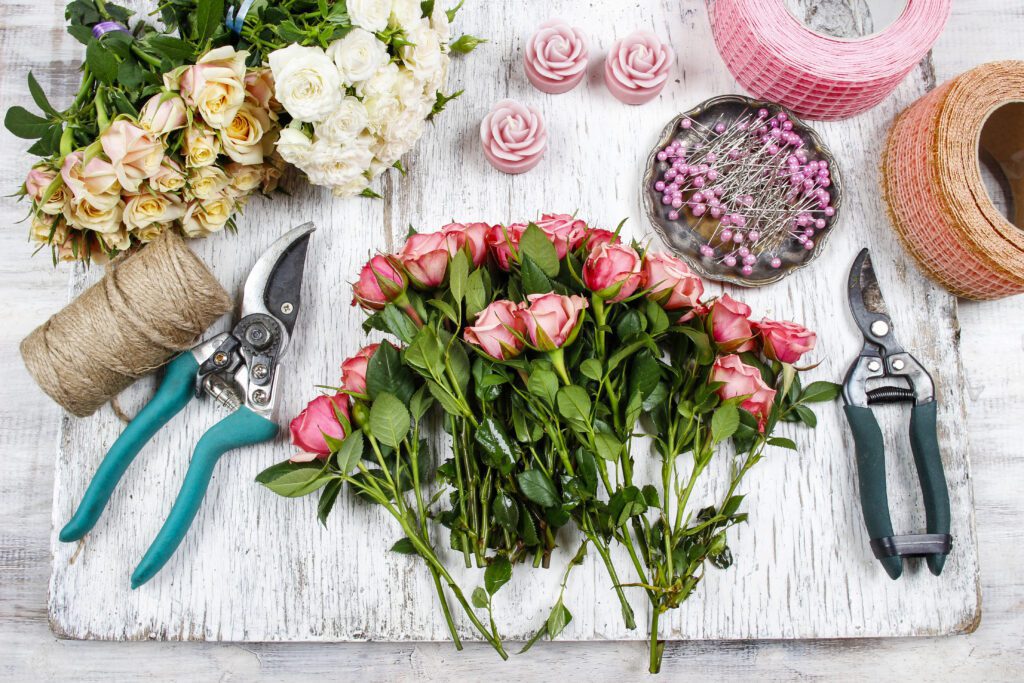 DIY Projects
To get the most from your wedding budget, consider taking on some DIY projects to help you save. This could involve making your own decorations, assembling your own bouquets and boutonnieres, or even crafting your centerpieces yourself.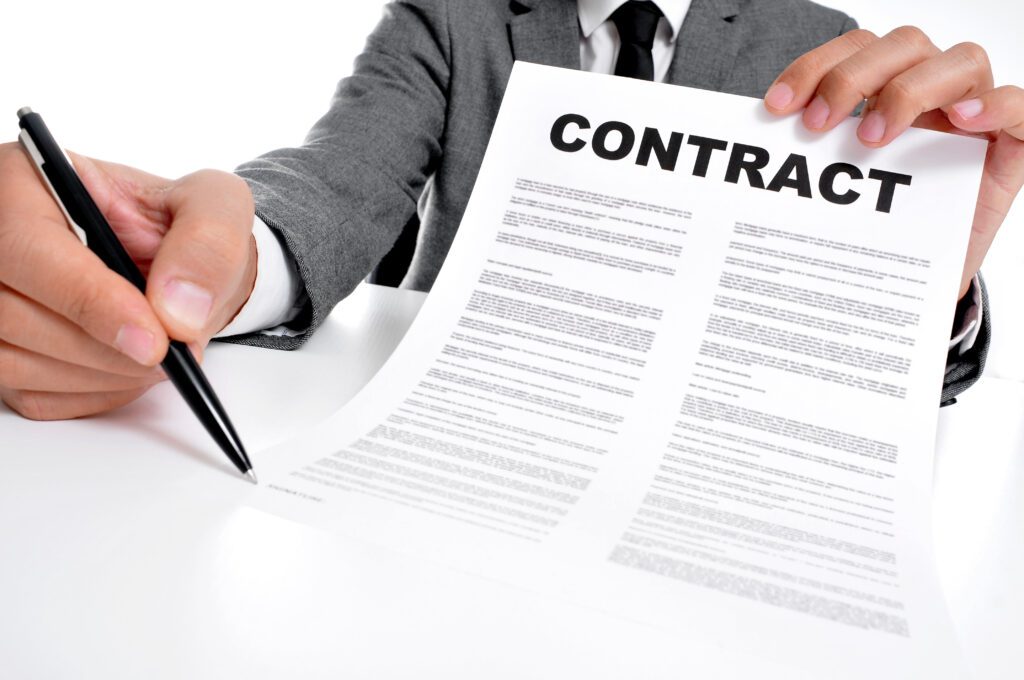 Know What's Included
When it comes to budgeting for wedding vendors, be sure to ask what's included in the vendor package before signing a contract. Some vendors may offer discounts if you bundle multiple items together, so make sure to ask. This could save you money in the long run!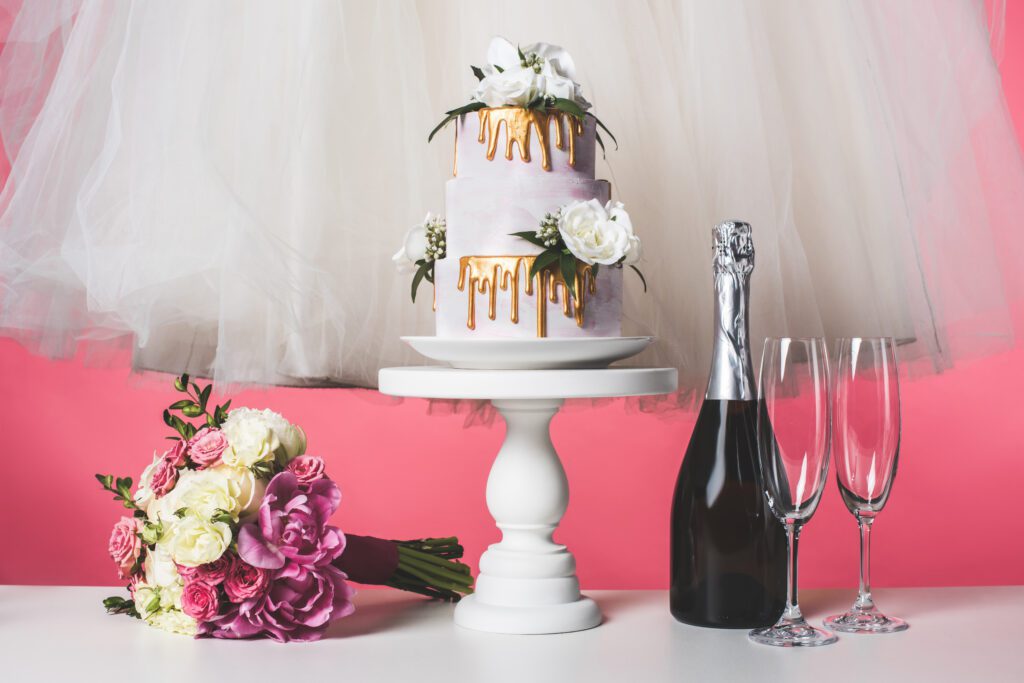 Rethink the Cake
While a towering, multi-tiered cake may seem like a wedding staple, there are cost-effective alternatives. Consider opting for a smaller display cake for the ceremonial cutting, complemented by a sheet cake to serve your guests. This approach can save money for your wedding day while still providing a delicious dessert for your attendees.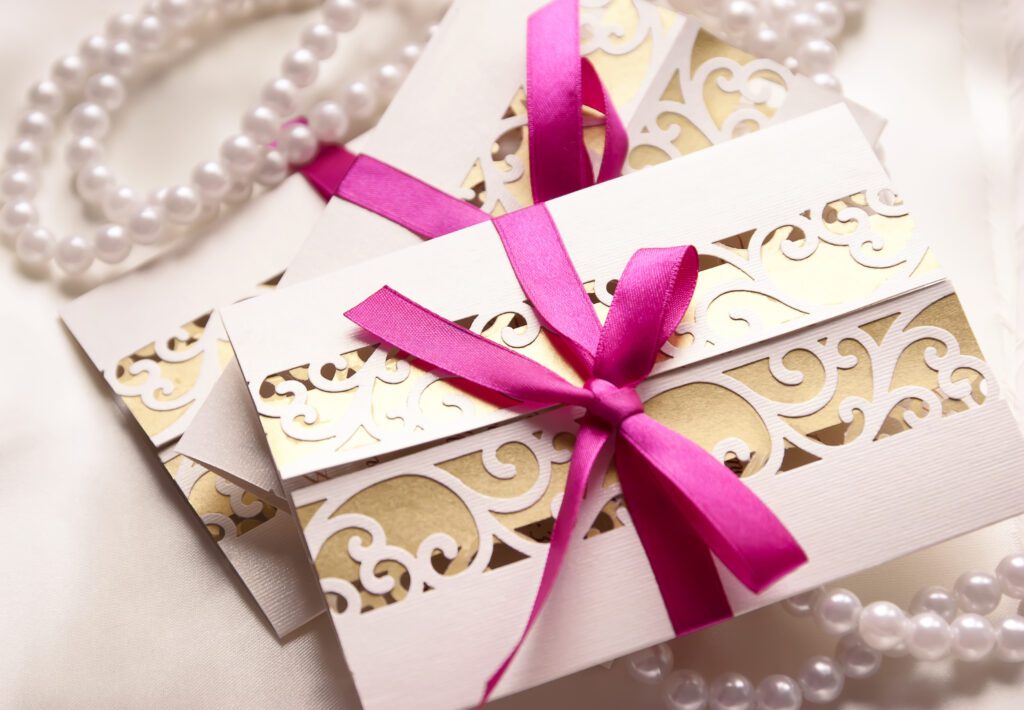 Go Digital
In an increasingly digital era, traditional printed save-the-dates and wedding invitations can be replaced by their electronic counterparts to save some cash at the end of your wedding budget breakdown. Not only will this save you money on printing and postage, but it's also a more eco-friendly option. Plus, digital invites offer an opportunity for creative, personalized messaging that can set the tone for your wedding.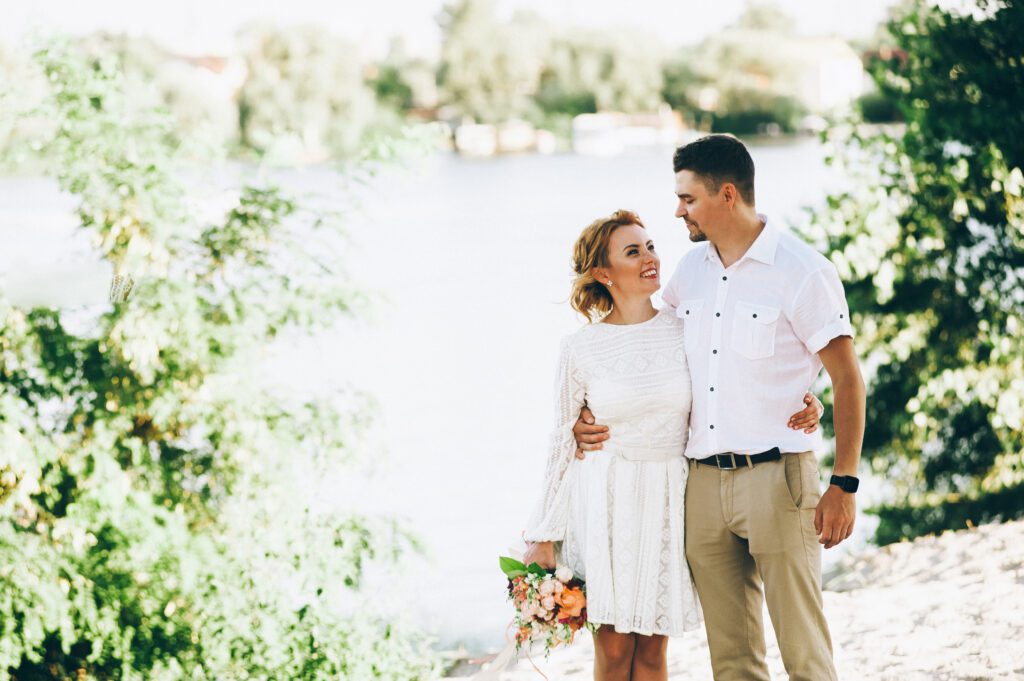 Simplify Wedding Attire
Everyone looks stunning in formalwear, but don't feel the need to splurge on designer tuxedos or wedding gowns. Instead, consider renting or purchasing off-the-rack ensembles for` your bridal party and guests. Alternatively, you could allow for a more casual dress code for the wedding party and guests to save even more money for the more important things on your wedding budget checklist.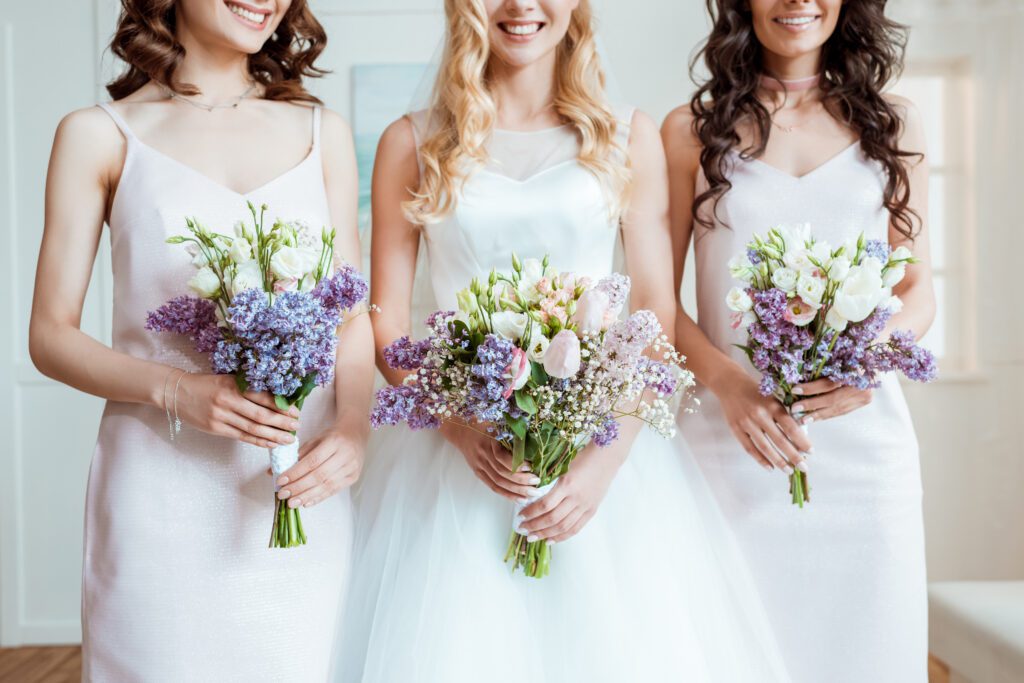 Streamline Your Guest List
Every additional guest adds to your overall wedding cost. While inviting everyone you know is tempting, consider focusing on those who hold a special place in your life. For those who can't physically attend, consider live-streaming the ceremony in your wedding planning. This allows them to be part of your special day without adding to the catering and wedding venue costs.
By implementing these innovative saving strategies, you can manage your wedding budget effectively, ensuring every dollar is well spent. Remember, a beautiful wedding doesn't have to break the bank; it's all about making informed choices that align with your vision and financial plan.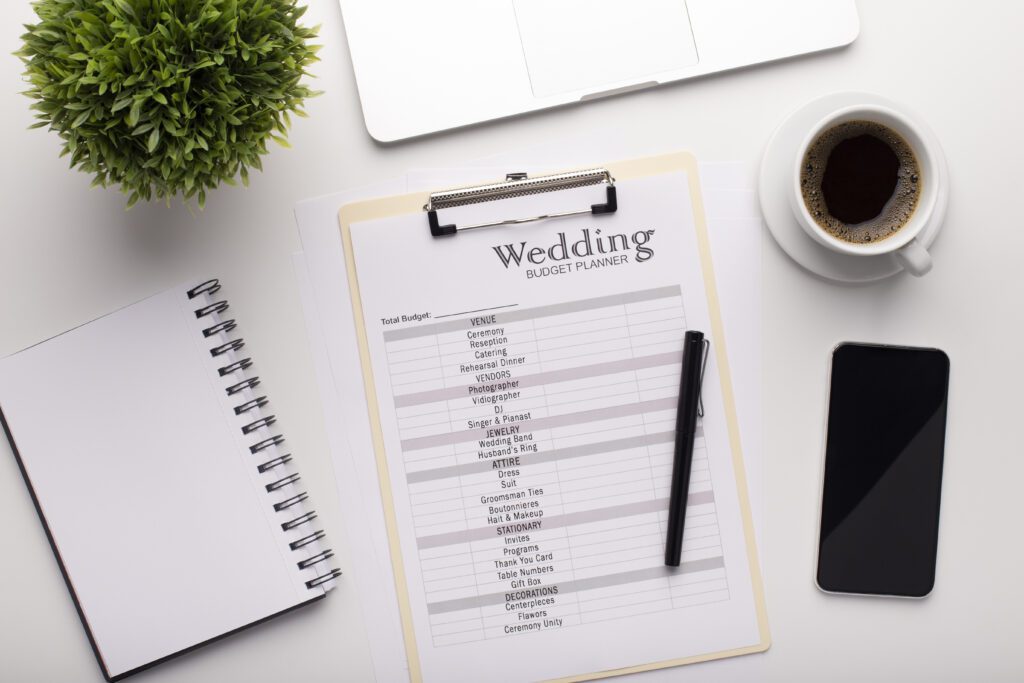 Wrapping Up
Remember, your wedding day is all about celebrating the union of two souls in love, not stressing over the wedding budget! With diligent planning and a realistic wedding budget breakdown, you can have a stunning wedding without going into debt.
So, whether you're dreaming of a grand royal-themed ceremony or a cozy backyard gathering, Premier Events Center is here to help. Our professional venue staff and wedding planners can guide you through the planning, ensuring all the details align with your wedding budget for your big day.
Ready to start planning your dream wedding? Contact us today to learn more about our services and how we can make your wedding day one you'll cherish forever without going over your wedding budget breakdown.
Here's to stress-free planning and a wedding day filled with love, laughter, and unforgettable memories! Happy Planning!