Hello, lovely couples! If you're planning your big day at Premier Events Center in Clinton Township, MI (or somewhere else entirely) and are contemplating how to save money without skimping on the style and elegance of your wedding decor, you've come to the right place. Today, we're turning the old adage "you get what you pay for" on its head, demonstrating that when it comes to wedding decor, cheap options don't mean an ugly wedding ceremony.
We've crafted the ultimate wedding decor checklist for those on a budget. Our wedding decor checklist covers every aspect of your special day, from the wedding ceremony decor to the reception tables. This thorough list will give you some fantastic ideas on saving money on the biggest expenses of your big day, ensuring no detail, however small, is overlooked while still getting your wedding decor for cheap! Let's delve into some imaginative, budget-friendly ideas for your wedding decorations that will leave your guests in awe.
Ceremony Decor
The wedding décor you use for your ceremony sets the tone for your entire event. But don't let it break the bank!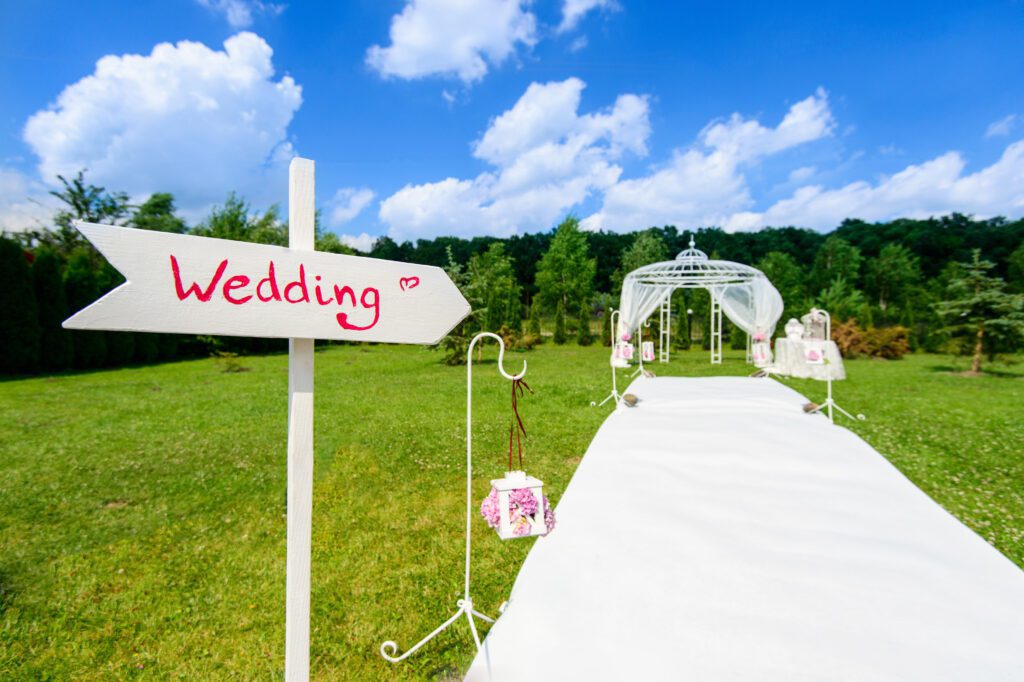 Aisle Runners
The aisle runner is more than just a path leading the bride to the altar. It's a stage-setter, an essential element of your wedding decor that can add a touch of elegance and drama to your ceremony.
Instead of opting for expensive flower arrangements for wedding tables, look into using potted plants that can serve a double purpose: as ceremony aisle decorations along the aisle runner during the ceremony and then as centerpieces for the dinner table.
Consider using fabric pieces or vintage rugs for a DIY approach and a whimsical look to your wedding space. You can find these at local thrift stores or online marketplaces. Sprinkle petals from your favorite flowers down the runner for an extra romantic touch. This enhances the aesthetic appeal and adds a fragrant aroma to your ceremony space.
To save on flowers, hit the dollar store for faux flowers. Cut the petals off and put them in a bag that matches the rest of your wedding reception decor. Your flower girl can also use the petals when she walks down the aisle.
Altar Arrangements
The altar is the focal point of your wedding ceremony, so it deserves special attention on our wedding decor checklist.
Floral arrangements are a classic choice, but hiring a florist can be expensive. Why not arrange the flowers yourself? You can find beautiful blooms at local markets or even grow them in your garden. Pair them with homemade stained glass windows for a vibrant pop of color. These can be made from inexpensive materials like tissue paper and old picture frames.
You don't need to spend a fortune on an archway or backdrop for your wedding ceremony. To save some cash for the rest of your wedding decor checklist, rent one from a local company or find a premade option at your local craft store.
You can use silk or fabric drapes as a backdrop to the wedding altar for a romantic, ethereal look. To make these look more luxurious and elegant, you can hang fairy lights, paper lanterns, and flower garlands behind them.
Ceremony Signs
Your guests will appreciate signs when they need help figuring out where to go or what to do.
Ceremony signs are a practical and personal addition to your ceremony decor. They guide your guests, indicating where they should sit, where the ceremony will take place and other important locations. You can find affordable signs at local stores or make them yourself and create unique, personalized touches that will wow your guests. DIY signs allow you to incorporate your wedding style into the decor.
Consider making signs from reclaimed wood if you're having a rustic-themed wedding. A cheap woodburning tool and some wooden signs from the craft section of your local dollar store are perfect for engraving or burning your wedding details into the wood. As an added bonus, you can use the signs at your reception too!
If you're opting for a more elegant style, resin signs with calligraphy can add a chic touch. If a resin DIY is too much, use wooden signs and spray with chalkboard paint (or use chalkboard vinyl). Just make sure the person who does the writing has the best handwriting in the group! Or you could grab a stencil!
Cocktail Hour Decor
Cocktail hour is the perfect opportunity to showcase your creativity and create a relaxed atmosphere before the main reception begins.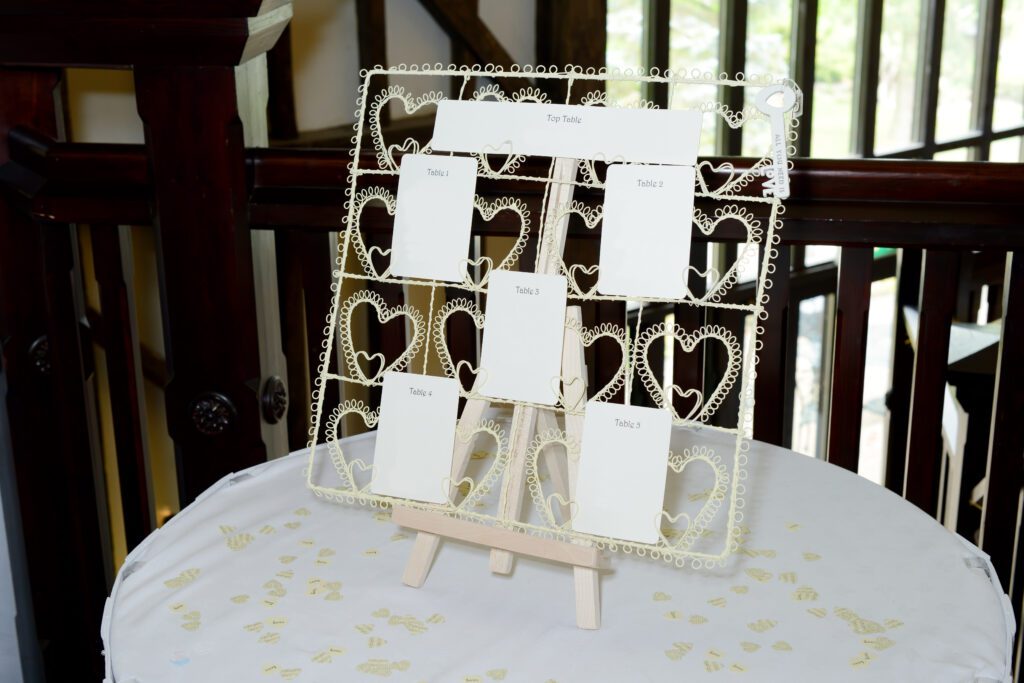 Escort Cards
Escort cards are a great way to show your guests where they should go at the reception. Instead of traditional cards, you can create unique ones that reflect your wedding style to display your seating chart.
Use wine corks to make a rustic display. Write your guests' names and seating chart table numbers on the cork and use a fishing line or string to suspend each one from a wall or frame. To save money, hit your favorite local bar or restaurant and ask them if you can have their old wine corks!
For a more elegant look, use gold-foiled calligraphy on card stock for the names and fold them in half to create tent cards.
Mini chalkboard signs can also be used as escort cards. Create them yourself using small pieces of wood and chalkboard paint (or vinyl). Then write each guest's name, corresponding table number, and any other necessary information with white chalk and place them on the wall.
Use seashells for a beach-themed wedding. Attach small cards with your guests' names and their corresponding table numbers.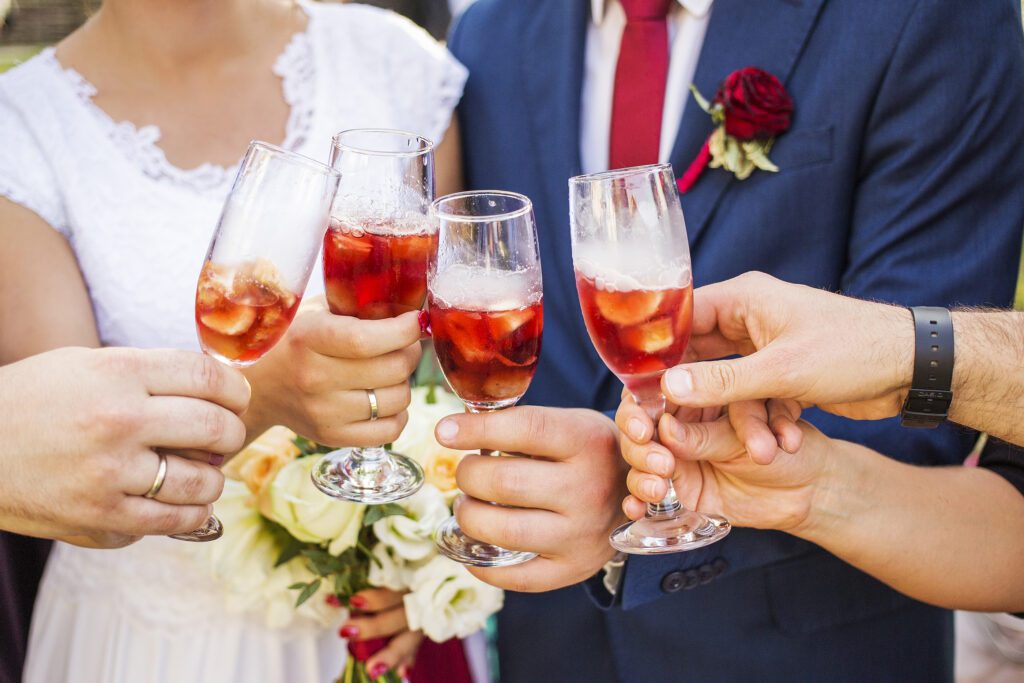 Cocktail Hour Atmosphere
You'll want to create a warm, inviting atmosphere during your cocktail hour so your guests can mingle and get to know each other.
String lights are an affordable and charming way to create a romantic atmosphere. Hang them from the ceiling or drape them around doorways, tables, and chairs for a great glow that will light up your reception space.
Consider DIY votive candles. You can decorate plain glass votive holders with glitter, paint, or lace to match your wedding theme. Also, small floral centerpieces on cocktail tables can add a dash of elegance without breaking the bank.
Use champagne flutes to float candles in the water for a classic and romantic look. You can even combine it with fresh flowers around the bottom of the glass or under the water to add a splash of color.
If you want something more interactive, homemade photo booths can engage your guests and keep them entertained. At the dollar store, you can find props like mustaches, glasses, and boas. Then hang fabric or paper backdrops with a distinct pattern of your choice in a tucked-away corner of your wedding venue. Guests can use your props and backdrop to take pictures with their phones or disposable cameras.
Reception Decor
You probably already have a theme picked out for your wedding decor. And if you don't, your wedding planner has perhaps been gently reminding you that they can't plan the wedding reception without a theme at least once a day!
No matter your wedding style, there are plenty of creative ways to bring it to life.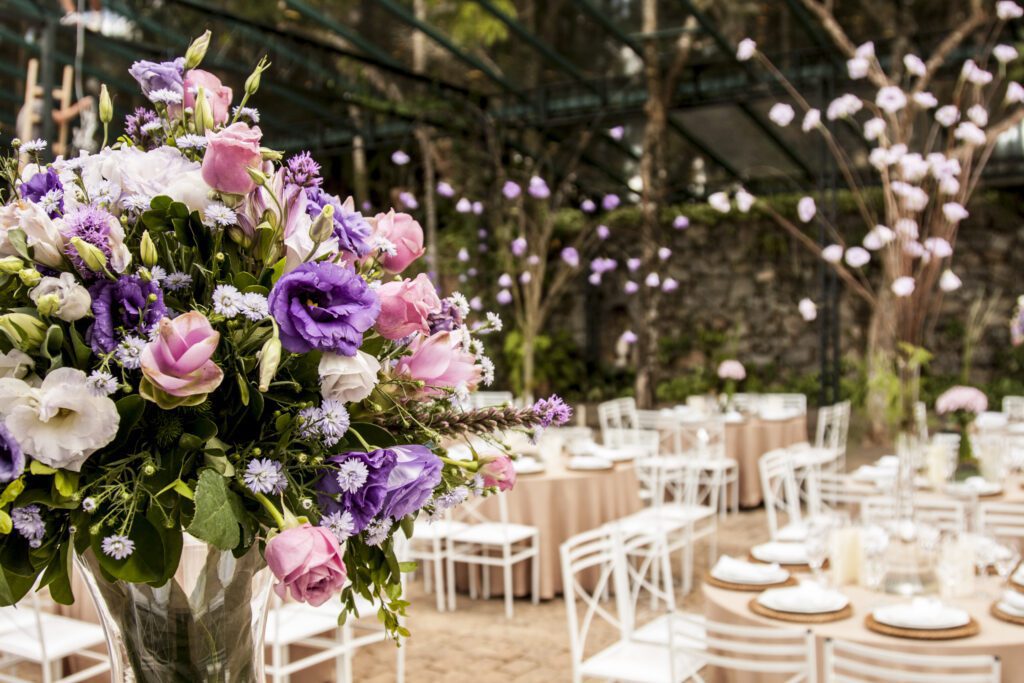 Atmospheric Wedding Decor
You'll want to set the mood for your reception with plenty of atmospheric decorations.
If you're planning a romantic evening, consider using votive candles in glass hurricane lamps or tea light holders to create an intimate setting. To save extra cash on your wedding day decor, buy the holders in bulk from craft stores or online.
For a more organic look, hang paper lanterns and string lights around your reception space. Their warm glow will create a magical atmosphere for your guests to enjoy throughout the night.
For a rustic-themed reception, consider using mason jars for centerpieces and tea light candles for ambient lighting. You can decorate the lids of the mason jars with twine, lace, or burlap for a more rustic look.
Hang paper flowers from the ceiling. Get your bridal party together before your wedding day to create paper flowers for your reception decor. Having everyone together shortly before the wedding can be a great way to relax, have fun, and hash out any final details for your wedding decoration checklist!
Using vintage frames and signs can create more of an antique vibe. Hang them from the ceiling, or place them around your wedding reception area.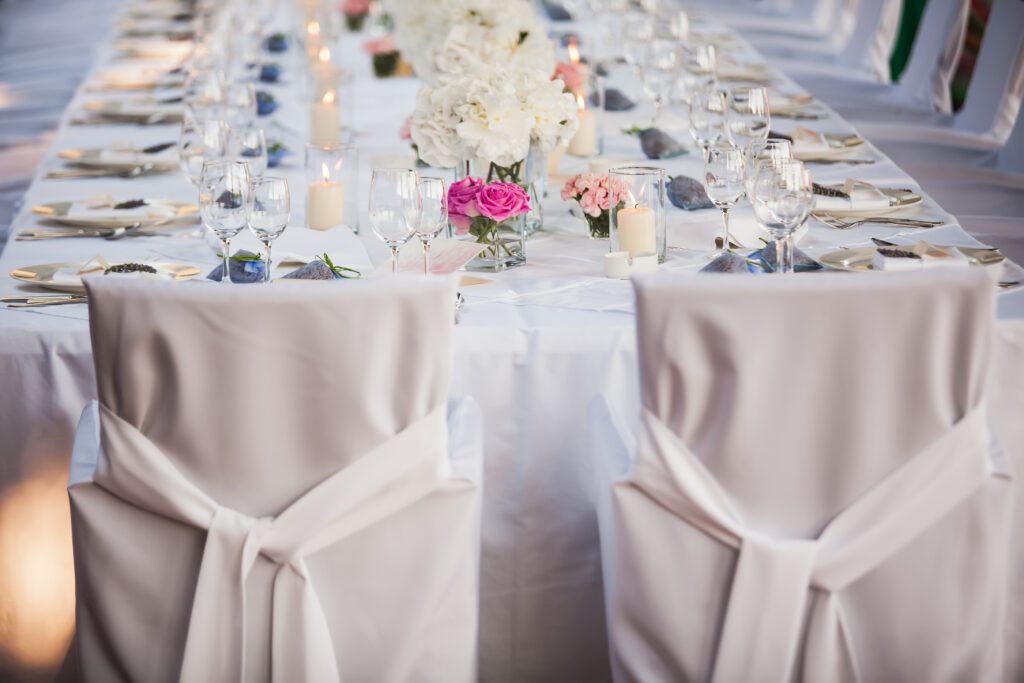 Reception Tables
The reception tables play a significant role in setting the mood for your celebration. You'll want to choose colors and designs based on your wedding theme.
Tablecloths and Runners
Tablecloths are a must! If you don't want to spend too much, consider renting white tablecloths from a linen rental company and adding runners or napkins in the colors of your choice.
DIY table runners made from affordable fabrics like burlap or lace can add texture and interest to your tables.
Add a pop of color with DIY floral arrangements. Use mason jars or thrifted vases as containers, and fill them with flowers that match your wedding palette.
Don't forget to include table numbers; these can be made from various materials, including wood, acrylic, or even printed on cardstock. If you used any of the wedding signage ideas from above, you can use the same materials for the numbering of each reception table.
Tableware
Your tableware can be an easy way to tie all the elements of your wedding reception together.
Choose plates, cups, and cutlery that reflect your wedding's theme. Choose white dishes with gold accents if you're going for a classic look. For a modern affair, opt for sleek black or gray dishes, or match your theme!
If you're planning your ceremony events in a wedding venue, they may already provide the basics included in the cost of the event. They may have upgraded options, but instead of fancier flatware, you can dress up the table with certain elements like chargers and beautiful napkins.
For a casual reception, you can go for colorful plastic plates and cutlery that fit your theme.
Table Centerpieces
You can save on centerpieces by making them yourself. You can use a variety of items depending on your style.
Try mason jars filled with wildflowers and baby's breath or small terrariums made from succulents and moss for a rustic feel.
For a vintage feel, frequently check out your local thrift stores and flea markets for cheap watertight vases and vessels over the months before the wedding. They don't have to match perfectly but stick to your theme and color palette when selecting your centerpieces. If you want to keep things simple, try floating candles in your eclectic collection of containers. Fill with water (or clear gel beads and a string of LED lights) and toss in some flower petals or greenery for a romantic touch.
If you want something more glamorous, consider gold-foiled candle holders. A can of gold spray paint and candle holders from the dollar store are all you need to create this cheap, elegant look.
Ceremony Chairs
You can add chair decorations to customize the look of your reception tables.
Hang floral garlands on the chairs if you're having an outdoor wedding. You can make them yourself or buy premade garlands from a local florist. (Or opt for faux flowers purchased online!)
For an indoor affair, consider checking out your local fabric store for a thick ribbon on sale that matches your theme! You can tie the ribbons around the backs of your chairs for a simple yet sophisticated look.
Try tying starfish or shell favors to the chairs for a beach-themed wedding for a fun beachy touch. You can typically find bags of seashells, you guessed it, at the dollar store!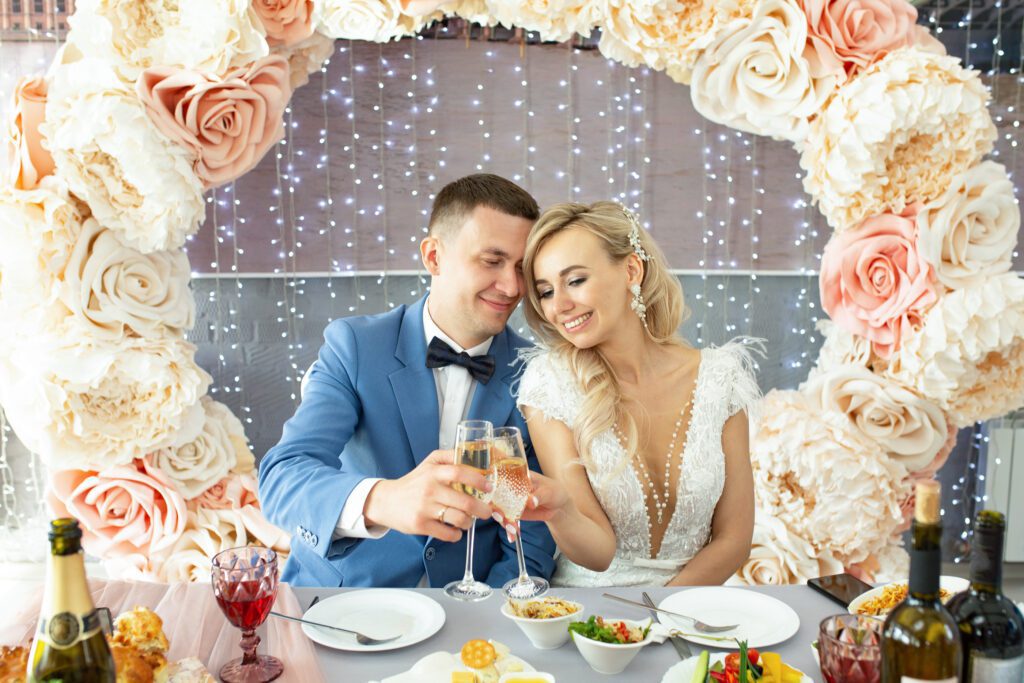 Sweetheart Table Decor
Don't forget about the sweetheart table decor. This is where you and your spouse will sit during the reception.
Cover the table with burlap and florals for a dreamy look if you're having a rustic wedding. Use earthy centerpieces like succulents instead of flowers for a more natural feel.
Consider covering the table with sequins or gold glitter for a glamorous wedding for a fabulous touch. You can also hang string lights around the back of your chairs to create an intimate setting. You can order cheap LED light strands online or at your local party store.
For an eclectic and whimsical feel, mismatch chairs around the table in colors that coordinate with your theme.
Have the newlywed's champagne flutes or wine glasses (whichever they prefer) engraved, and use them in the table decor. This is a great way to add a personal touch to the reception decor.
Create wedding signs that say Mr. and Mrs. with your last name on them and hang them behind the bride and groom's seats.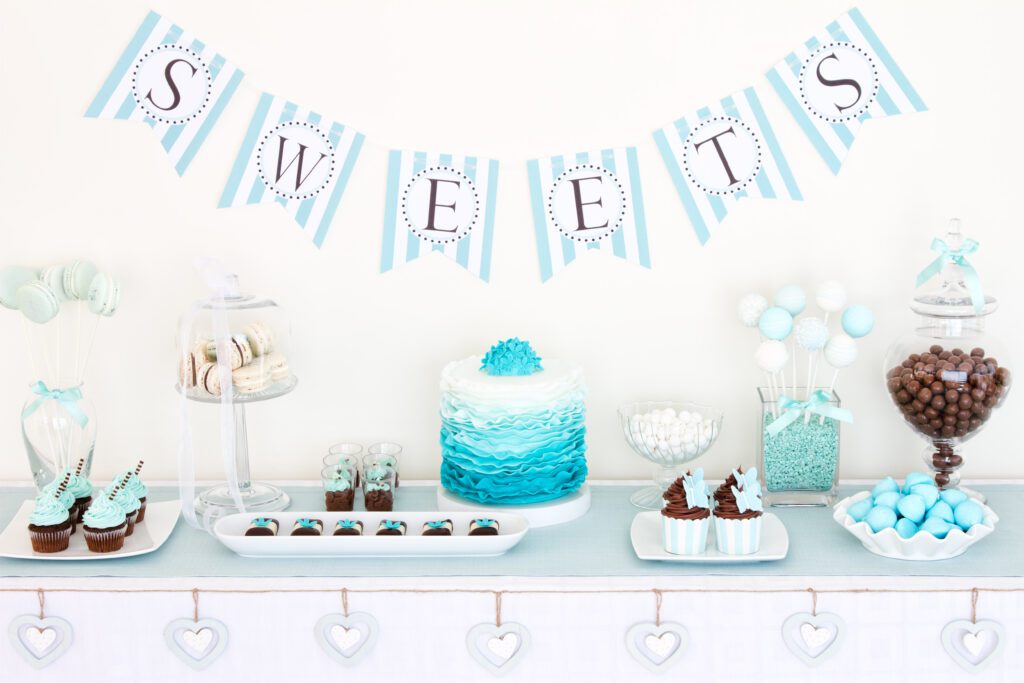 Dessert Table Decor
The dessert table is often a focal point at any wedding reception. Make yours stand out with DIY elements.
Consider adding a backdrop to your dessert table—a curtain of fairy lights, a fabric drape, or a wall of paper flowers.
You can add vases of flowers or greenery to the table to liven up any indoor venue space. Choose flowers that match your theme and color palette.
If you're feeling creative, make some paper flower arrangements with the patterns you used for your table linens.
And remember to have fun with the desserts themselves!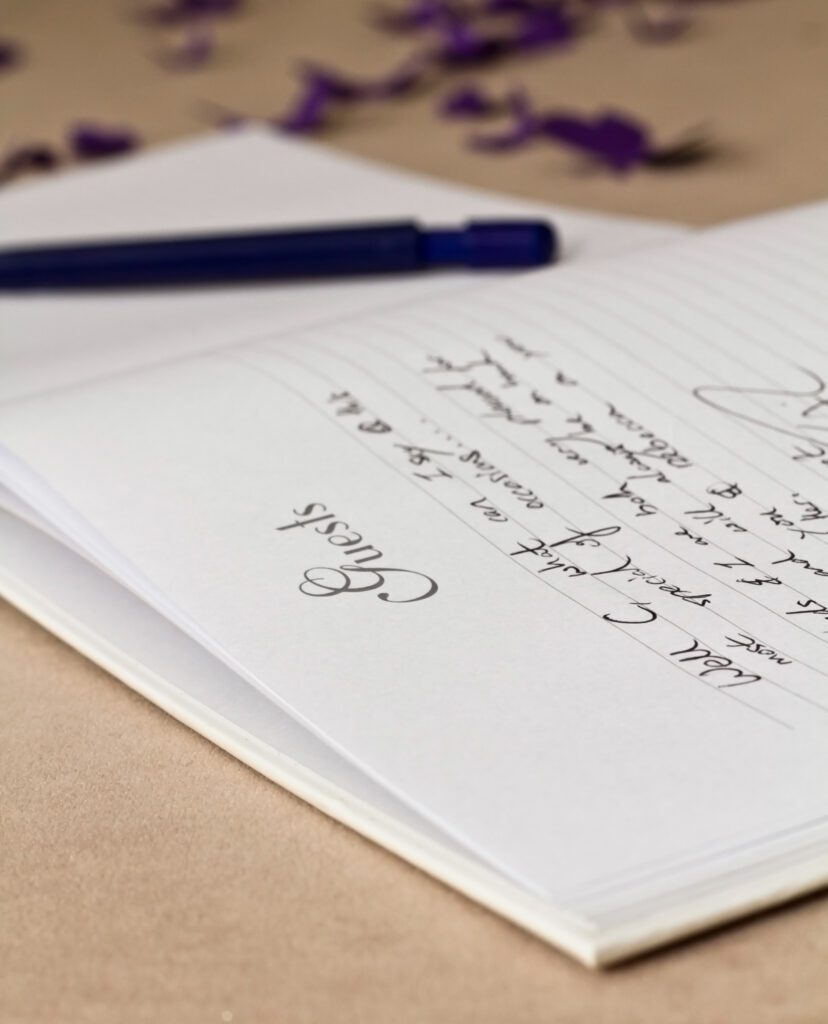 Guest Book Table Decor
Your wedding guest book table is another area where you can let your creativity shine.
Instead of a traditional guest book, think outside the box. Consider a large poster where friends and family can leave their well wishes or a decorative jar or card box filled with notes of love and congratulations from your friends and family.
Decorate the guest book table with elements that reflect your theme and style. If you're having a rustic wedding, consider using wood slices with a small vase of wildflowers.
Use vintage papers and books scattered around the table for a vintage theme to create an old-fashioned look.
For something exceptional, consider setting up an interactive project where everyone can leave their mark—a canvas painting or block printing station will surely be a hit!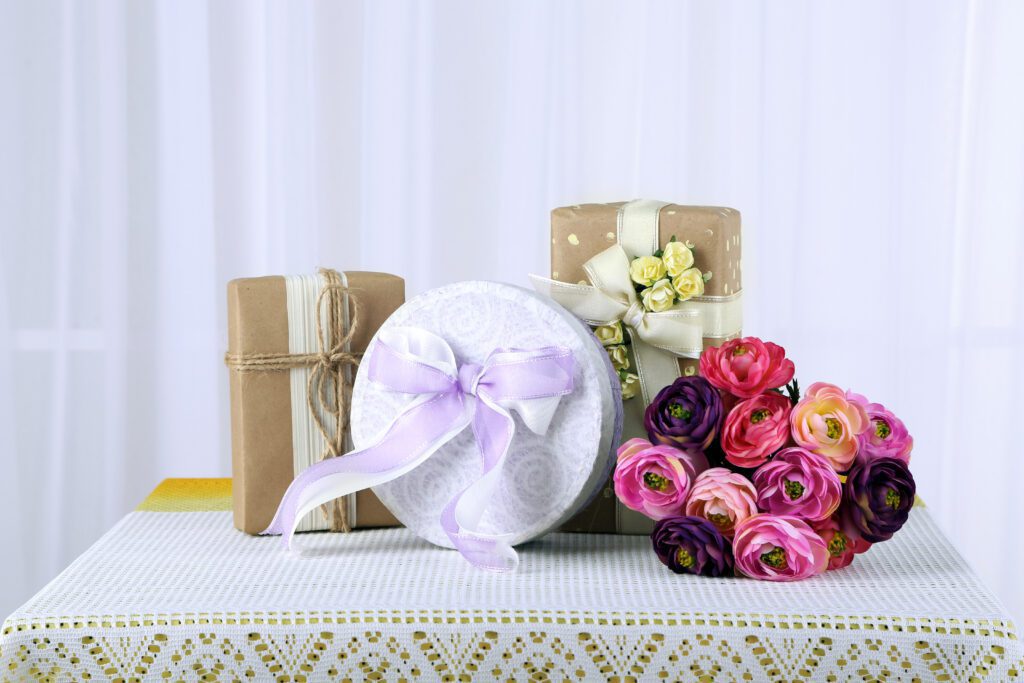 Gift Table Decor
Your gift table should also be decorated to reflect your theme, but you don't want to take up too much room with decorations that will just get shoved to the side to make room for gifts.
If you're having a formal wedding, consider using a piece of embossed fabric with a few fresh flowers in a vase, and you can always add a frame with a sign that reads "Gifts."
Use a colorful table runner with a sign announcing a "gift table" off to the side for a casual reception.
You can also hang paper lanterns from the ceiling or string lights around the frame of the table to create some ambiance.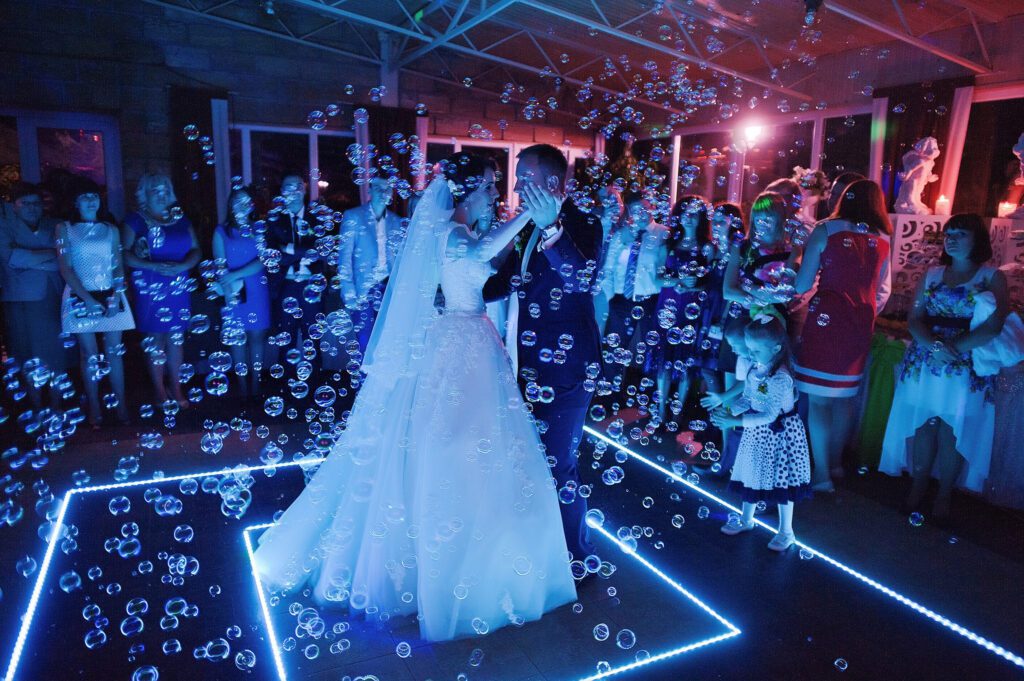 Dance Floor Decor
Memories are made on the dance floor, so why not make it special? Your guests will be more apt to get out and shake their stuff if the dance floor is adorned with decorations!
For a classic look, consider using white tulle or lights to create an elegant ambiance. You could also add some colorful balloons or fabric banners for added pizzazz.
Consider hanging paper lanterns or fairy lights above the dance floor for a magical effect.
You could also use removable decals to personalize the floor—think of your initials, wedding date, or a meaningful quote.
The Smaller Details
The small details used throughout your event space can make a big impact. Consider adding some fun, personalized elements to your decor.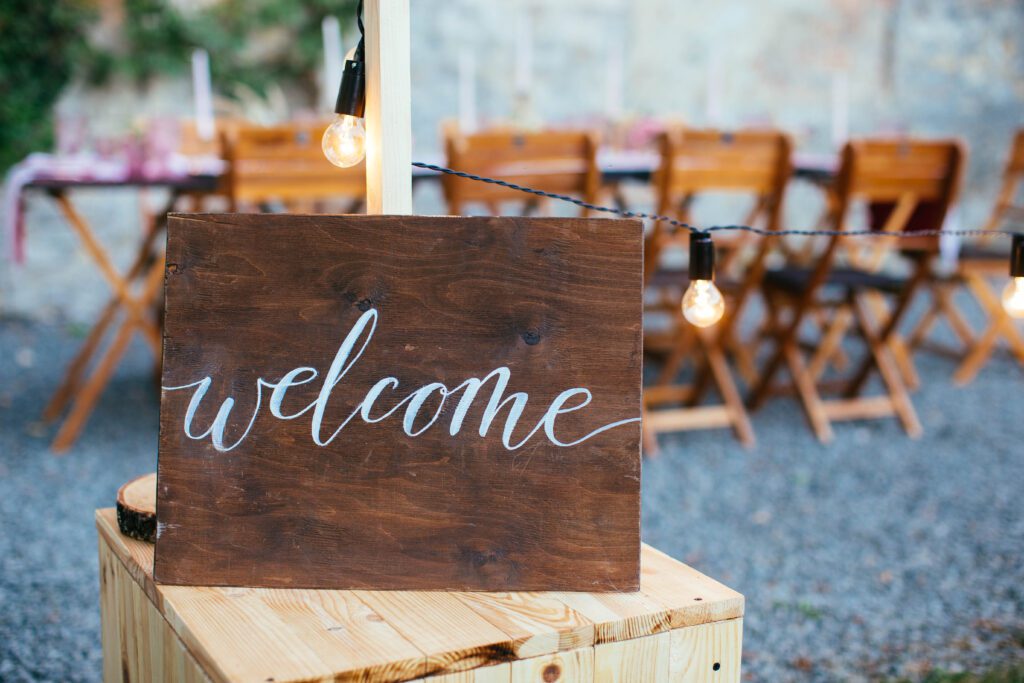 Welcome Sign
A customized welcome sign at the entrance to your venue greets guests and lets them know they are in for a special night! Use a personalized sign with your last name and wedding date, or add a unique wedding catchphrase.
If you're crafty, you could make your sign with some wood, paint, and a few tools. It doesn't have to be fancy, just something that will add a unique touch to the entrance of your venue.
Check around locally for second-hand pictures in large frames for low prices. Online marketplaces and thrift stores are also great places to find these items. Large frames can be repurposed as a wedding sign with some creative thinking and basic art supplies. You can even use landscape prints as the background for your welcome sign by painting on the glass and using a sealant over the top to lock your masterpiece in!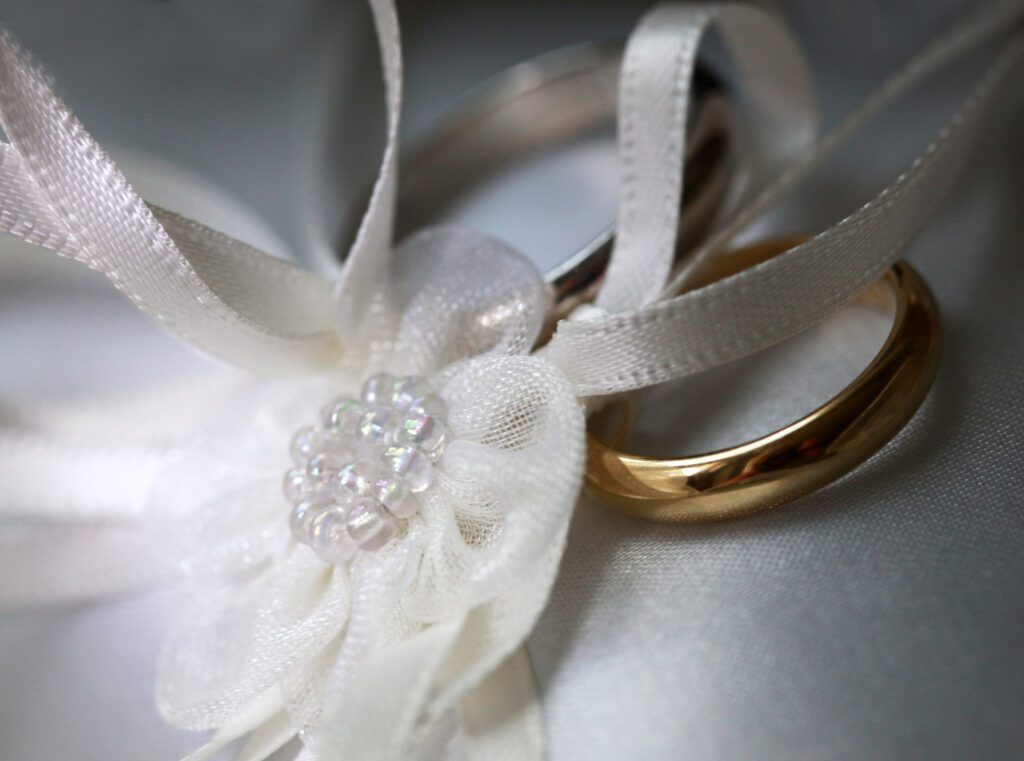 Ring Pillow
A ring pillow for wedding bands is more than just a vehicle to get the rings to the altar; it's a tangible reminder of your love.
Request a friend or family member skilled with a sewing machine to create a pillow out of a memorable piece of clothing for you and your spouse-to-be. The shirt she wore when he met her, the first shirt he left at her house, or something else with a significant meaning to the couple.
If you don't have a friend or relative with the skills, sew the pillow yourself. Grab your spouse, a couple of square fabric pieces that match your decor, and a needle and thread, and figure it out together! This can be a fun project to do with your betrothed, attaching even more memories to your big day and the decor that will stick around for the long haul with you.
Wedding Ceremony Programs
While they may seem trivial compared to other elements, wedding programs are vital in informing your guests about the day's proceedings. Creating your own ceremony programs can save you a significant amount of money and allow you to incorporate your chosen theme and style into the design.
Use a simple design program to create your layout, then print them at home or a local print shop.
Find premade wedding program templates online and customize them to your liking. So many resources are available that you'll find something perfect for your theme and style.
Reception Music
Music is one of the most critical elements of an ultimate wedding decor checklist. Even though it's not a visible element, music sets the tone for your reception, so make sure to choose the right tunes!
If you want to save cash on entertainment, consider creating a custom playlist for your reception. Include music from all genres and eras, plus some fun sing-alongs if you're feeling adventurous. Create playlists for different parts of the day—dinner music, cocktail hour, and party time.
You could also hire a DJ to create the perfect atmosphere or enlist some musically inclined friends to take turns as the "DJ of the night"!
Favors
Your guests will love receiving a small token of your appreciation on their way out the door. When it comes to favors, so many options are available that you'll be sure to find something that fits your budget.
Think of edible treats like individually packaged personalized cookies or candies with the bride and groom's initials or small potted succulents that your guests can take home—endless possibilities!
You could also get creative and make your own favors. Personalized mugs, scented candles, and homemade bath salts make great gifts for your guests. No matter what you decide, your guests will appreciate the thought behind it and remember your special day.
Remember, your wedding day is all about celebrating your love. No matter how much you spend on decor, the most important thing is that you and your partner have a day to remember. So, don't stress about the cost of the decor on your wedding decor checklist. With a bit of creativity and effort, you can have the wedding of your dreams without breaking the bank.
Our ultimate wedding decor checklist for budget-conscious people is designed to help you plan your big day. At Premier Events Center, we know weddings and can ensure every detail is taken care of. From a spacious venue to all the little touches that make your special day memorable, let us help you create a beautiful and unique celebration. Our in-house wedding planner and catering can check two boxes on your complete wedding decor checklist!
Contact us today for more information on how to turn your wedding dreams into reality. We look forward to helping you plan the perfect event!
Here's to a day filled with love, laughter, and gorgeous wedding decor that doesn't break the bank!