As a bride- or groom-to-be, you've probably been dreaming of your ideal wedding ever since you said "yes." From the venue to the decorations to the food and signature cocktails for cocktail hour, so much goes into planning a perfect wedding day!
One of the most important decisions you'll make is what kind of bar service you want for your big day. Picking the right bar while wedding planning will set the tone and atmosphere of your wedding, and it's essential that you consider all your options before making a final decision. But what makes the perfect bar at wedding receptions?
From an open bar to pay-per-drink options, cash bars, and even BYOB, there are various bar choices, and it's essential to understand which one fits best with your vision for your wedding. So let's break down your options and explore how to make sure you decide on the right bar at your wedding!

Open Bars
One of the more popular and traditional bar options is an open-bar wedding, also known as a hosted bar. An open bar service means that drinks will be free for guests throughout your wedding reception. However, deciding on an open bar also means that you will be responsible for footing the bill as the couple hosting the wedding.
Depending on how extravagant you want to be, hosts can tailor an open bar with certain restrictions, such as limiting alcohol consumption by choosing what your guests drink by providing only certain types of drinks or by limiting the quantity consumed by guests. This can be a great way to be mindful of your budget.
For instance, some couples give out drink tickets during the wedding ceremony for a limited open-bar service. This ensures that guests cannot drink unrestricted amounts of alcohol. The wedding host may also give guests the option to switch to a cash bar after a certain number of drinks or change from an open bar wedding to cash bar services entirely at a particular hour of the night.
Keep in mind that open bars may be more expensive than pay-per-drink options and could take up quite a bit of your wedding budget if you host a large event with many guests and choose to serve alcohol of all varieties from a full-service bar. Therefore, if you select a hosted bar, it's essential to ensure that you have allocated enough funds to cover all costs associated with providing open alcohol service, no matter how much alcohol is consumed.
Pros and Cons of Open Bar Weddings
Pros:
• Guests will be able to enjoy the wedding without worrying about costs associated with bar services.
• Your guests can drink all the alcohol they want without restrictions.
• It's easier to determine a budget when you opt for an all-inclusive wedding package with your perfect wedding venue during your wedding planning, giving you a fixed price based on how many guests you expect.
• Guests expect an open-bar wedding and may be disappointed if there isn't one or if you choose a no-host wedding.
Cons:
• Open bar cost can be more expensive than other options if you choose a full bar with mixed drinks, beer, and wine.
• You may have to pay for alcoholic beverages that guests didn't even consume.
• Open bar wedding events can lead to excessive drinking and inappropriate behavior.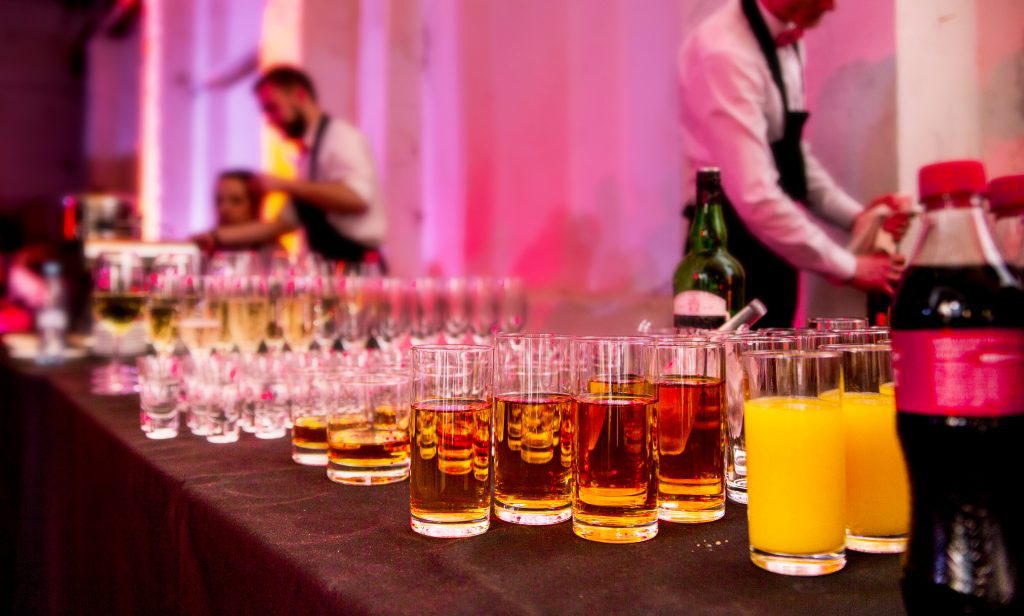 Pay-Per-Drink or Tabbed Bars
Another popular choice when selecting a bar for your wedding is pay-per-drink options. This setup allows each guest to grab their drinks from the bartender on the night of the wedding reception. The venue or catering company bartender will run a tab throughout the night, and the wedding couple or host pays for the total drinks consumed by the end of the night.
This option can be a great way to save money on a full bar at a wedding since you will only be paying for the exact drinks consumed. You can also opt to provide a limited bar, such as beer, red and white wine, and signature drinks only, or you may opt for a standard service to provide drinks from the mid-shelf and have guests pay for their own premium liquors for mixed drinks.
Pay-per-drink bars are still paid for by the couple hosting the wedding, but you will only pay for drinks that guests actually consume. When choosing this bar option, it is crucial to consider any limitations on what drinks will be available and whether there are minimum amounts required for each purchase (as some venues require).
Additionally, depending on how large your event is and how much time has been allocated for it, pay-per-drink bars may take longer than other types of bars and require more servers or bartenders working on behalf of the venue for everything to run smoothly during the night. Of course, more staff means more money, so the cost of the bar may be higher than anticipated.
Pros and Cons of Pay-Per-Drink Weddings
Pros:
• You only pay for the drinks consumed, which may save money compared to buying a full bar package.
• Guests can order drinks according to their preferences without worrying about the cost.
• This type of bar is more customizable and allows you to offer a more limited selection that meets your budget.
Cons:
• Guests may drink more than expected due to lack of restriction.
• Pay-per-drink bars can be more expensive than other options, depending on the type and quantity of drinks served.
• Depending on the venue, they may require minimum amounts for each purchase.
• This option can take longer to serve than other options.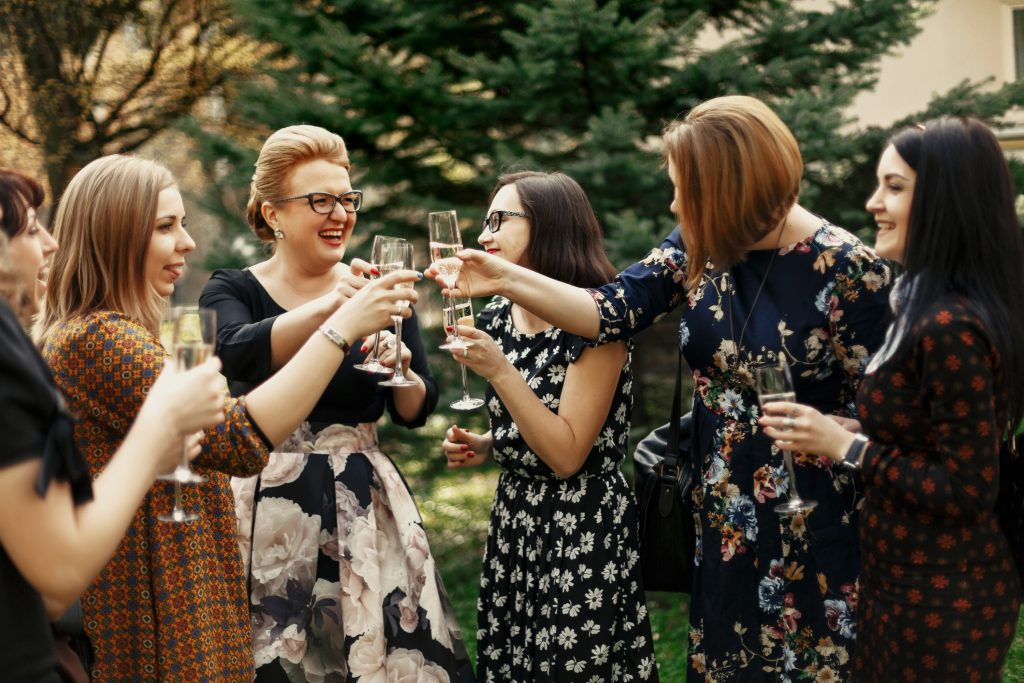 Cash Bar Wedding Options
A cash bar (or no-host bar) is similar to a pay-per-drink setup but requires guests to pay for their own drinks upfront instead of leaving the bar tab for the newlyweds! However, many couples find this option less desirable since it can feel like taking away from their guests' experience by making them pay for their drinks since it may put an extra financial burden on guests attending the wedding reception.
Some catering services and venues may require a minimum amount to be spent on the bar tab to provide no-host bar services. For example, the venue might require the couple to pay for a certain number of drinks in advance and then leave it up to guests to purchase additional drinks with cash or credit.
Another option is to cover only beer and wine for your guests while leaving hard liquor off the list of available beverages, as that can be an expensive addition. If your guests want these options, they can have the option to pay for their own alcohol.
Pros and Cons of No-Host Bars
Pros:
• A cash bar is an extremely budget-friendly option for couples looking to keep their total wedding costs low.
• Guests are responsible for paying for their drinks throughout the night, meaning costs for alcohol service will be lower.
Cons:
• Guests may feel like their experience is being taken away by having to pay for their own drinks.
• This option may put an extra financial burden on wedding guests, which some couples find undesirable.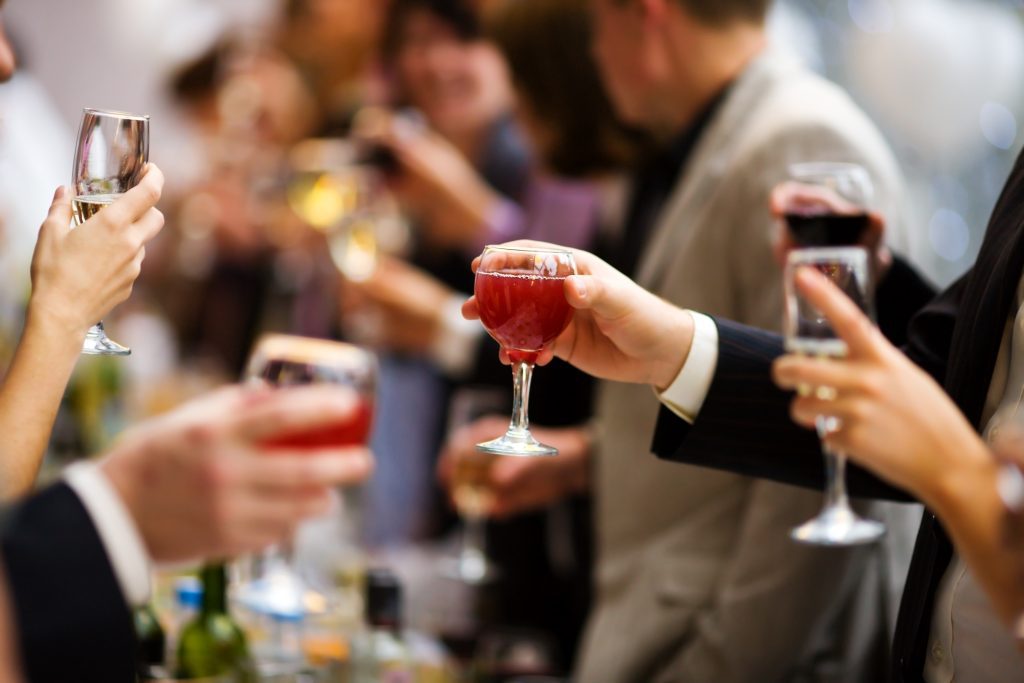 BYOB Bars
Bring Your Own Beverage (BYOB) options allow guests to bring their own alcoholic beverages when they attend your wedding reception. Outside alcohol should only be brought in if there are no restrictions against BYOB policies at your chosen venue and all necessary permits for serving alcohol have been obtained before arrival at the event location.
BYOB bars are usually seen as the best option for the new couple or host to save money since guests bear the cost of supplying drinks for themselves, and there is no additional cost for alcohol service. However, it requires careful planning to ensure that all necessary permits are available and that guests can be trusted not to overindulge in how much alcohol they consume or bring too much wedding alcohol.
Most guests love the idea of bringing their own alcohol. Still, ensuring that your guests know what type and quantity of beverages are allowed is vital. To ensure clarity and communication around this policy, it is best to provide clear guidelines ahead of time regarding what types and amounts of drinks are acceptable at the reception.
Some venues and catering companies will have a liquor license that can cover a BYOB setup. Still, you should research first and ensure that everything is legal before allowing guests to bring their drinks. Talk to your venue coordinator and caterer to find out their policies regarding BYOB so you can plan accordingly.
Pros and Cons of BYOB Weddings
Pros:
• Guests can bring their own choice of beverages with them, saving the couple money upfront on bar costs.
• This option requires less staff to operate, which can also keep costs down.
Cons:
• Careful planning is necessary to ensure all permits are obtained and guest consumption is monitored throughout the night.
• Some venues may not allow BYOB policies, so checking before planning this type of bar is essential.
Weighing the Options
When it comes to choosing the right option for your wedding bar, one of the critical factors to consider is cost. An open bar can often be expensive, depending on guest count, what drinks guests will have available, and how many drinks they have. On the other hand, pay-per-drink options can provide a lower cost per drink than an open bar but may require more work from the wedding party and staff members. Cash bars and BYOB options can also help keep costs down for the hosts and ensure guests can enjoy a signature cocktail during cocktail hour.
The number of guests attending also needs to be considered when deciding which type of bar is best for your wedding day. A pay-per-drink bar may be a more cost-effective choice if you have a smaller guest count. If it's an open bar with unlimited drinks, having a larger guest count can help spread out the costs associated with providing alcohol for the evening.
The other major factor is a personal preference. Suppose you prefer having a wide selection of drinks available at all times. In that case, an open bar (or an open limited bar) available to serve beer and wine selections along with a unique signature cocktail (don't forget to give it a name and a wedding hashtag) may be the way to go. However, if you would rather have guests purchase their drinks as they go—and save some money in the process—then pay-per-drink options may be better suited for your big day. Ultimately, The couple should make this personal decision based on what makes them comfortable and happy on their special day!
No matter your choice, it is important to research and plan carefully when setting up the bar at your wedding reception. Finding the right balance between keeping costs low and providing an excellent experience for your guests is key to ensuring everyone has a good time.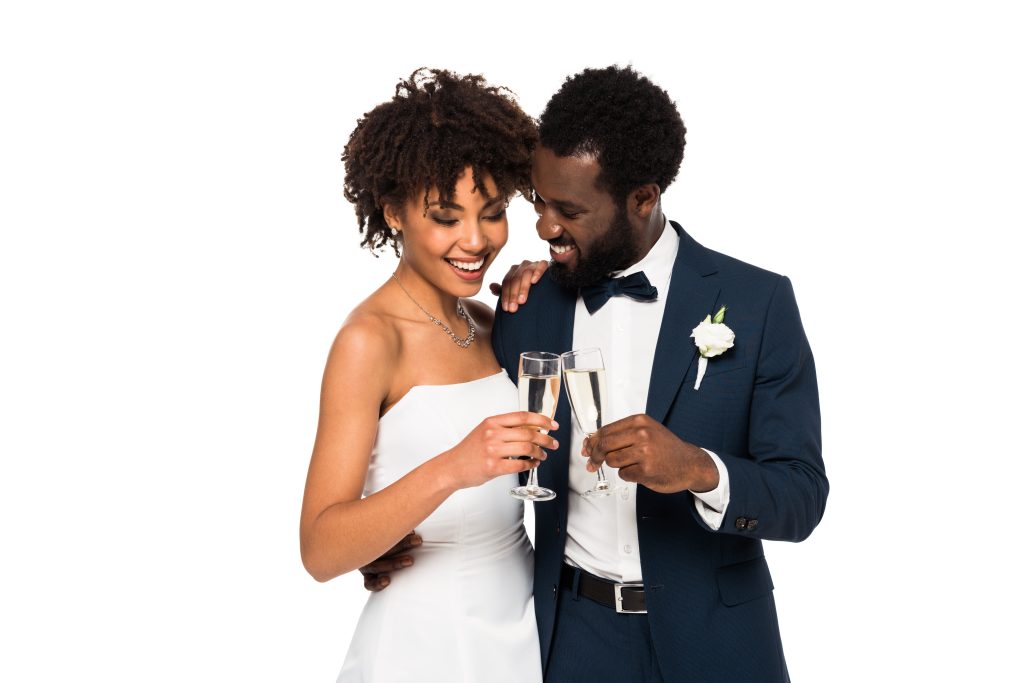 Choosing Alcoholic Drinks
When choosing alcoholic drinks, there are several factors to consider, including; your budget, the type of reception you're hosting, and whether or not you want to offer specialty drinks or stick with traditional choices like beer or wine. If you plan on offering specialty drinks like martinis or margaritas, make sure they fit into your budget by researching online or talking with bartenders at local restaurants or bars and the staff at your wedding venue. On the other hand, if you decide on beer and wine only, ask your caterer what brands they carry and see if there are any deals available through wholesalers that could save you some money on large orders of alcohol.
Whether or not you opt for a full or limited-bar wedding alcohol package with your venue, you may have to decide what wedding alcohol will be served at the open bar. Consider offering a beer, wine, and liquor selection within your budget to ensure all guests are satisfied with what's available. You can also opt for signature cocktails as a unique wedding bar menu that reflects the two of you! Make sure to have a variety, as a wedding bar stocked with only beer and white wine won't be suitable enough for wedding drinks for all of your guests.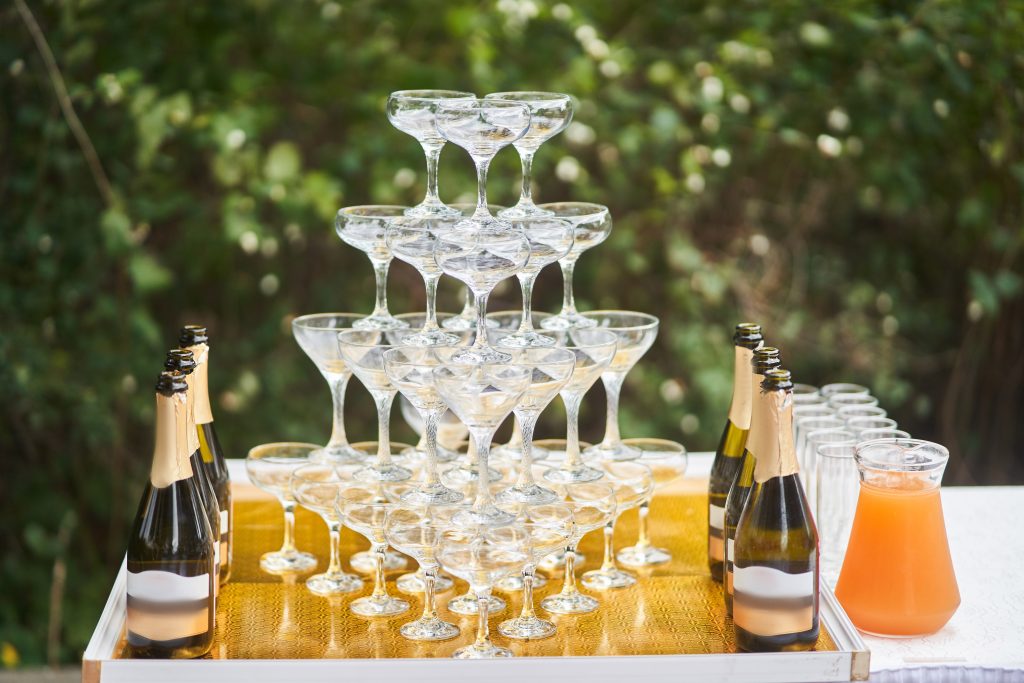 What to Expect From Our Wedding Bar and Beverage Service at Premier Events Center
At Premier Events Center, we offer various bar and beverage services that are sure to make your event a hit. From our standard bar to our premium bar and cash options, there is something for every budget and taste. So let's take a closer look at what you can expect from our bar service to know exactly what your guests will be sipping on the big day, whether they enjoy one drink or many.
Standard Bar – $4.95/guest
Our standard bar includes a selection of liquors like Bacardi rum, Lauder's Scotch, Royal Canadian whiskey, Smirnoff vodka, Seagram's gin, and tap choices of Bud, Bud Light, Miller, and Miller Light. This affordable option is perfect for keeping your guests happy without breaking the bank.
Premium Bar – $6.95/guest
For just a few dollars more per guest ($2!), you can upgrade to our premium bar option. This includes Tito's vodka, Absolut vodka, 1800 Silver tequila, Captain Morgan rum, Crown Royal whiskey, Jack Daniels bourbon whiskey, Jim Beam bourbon whiskey, and Dewar's Scotch. Your guests will surely appreciate the extra touch with this upgraded selection!
Cash Bar Options & Tabs
We also offer no-host cash options ranging from $3 – $9 per drink and the option to set up a tab if desired. Depending on your preferences and budget needs, this additional feature might be an ideal way to give your guests more flexibility regarding beverages.
A Champagne Toast
We also provide a champagne toast for every wedding guest. This is sure to be one of the highlights of the night! Plus, it adds an extra class level that all your guests will surely appreciate.
For wedding luncheons, we offer beer & wine with unlimited mimosas, bloody marys, and sangria.
No matter what type of event you're hosting at Premier Events Center — whether it's an intimate gathering or a large wedding — rest assured that we'll have everything you need in terms of beverages! Our selection offers something for everyone, from red wine to hard liquor, without sacrificing quality or breaking the bank, so get ready for drinks all around! And our staff is always on hand to help you decide what's best for your event.
We look forward to helping make your next occasion special with our wide range of drinks.
Cheers!