A bridal shower is an important event in the life of any bride-to-be, and it should be celebrated in a memorable way. And while every bride is excited about their bridal shower, planning a bridal shower can be daunting for any host. There's so much to do!
You want the event to be unforgettable yet stress-free, so sorting through bridal shower theme ideas is a great place to start. A bridal shower theme can bring everything together, from the bridal shower invitation to the food, and give you a place to begin regarding decorations, favors, and games.
At Premier Events Center, we opened our doors in 2016, and we've hosted over 250 events annually ever since. If you're looking for bridal shower ideas or hunting out the perfect venue to host an unforgettable bridal shower, look no further than Premier Events Center. Our luxurious venue is ideal for celebrating a bridal shower with your closest family and friends. From our on-location kitchen serving delicious food to our in-house event planner, we can help ensure your event will be the talk of the town.
If you're looking for an amazing venue that will leave your guests in awe, look no further than Premier Events Center!
To help get your creative juices flowing, we've put our heads together and come up with 12 creative bridal shower ideas for themes that will wow your guests and make the bride feel special. So stick with us; we'll help you create the perfect atmosphere by suggesting some unique bridal shower ideas to make your bridal shower one to remember.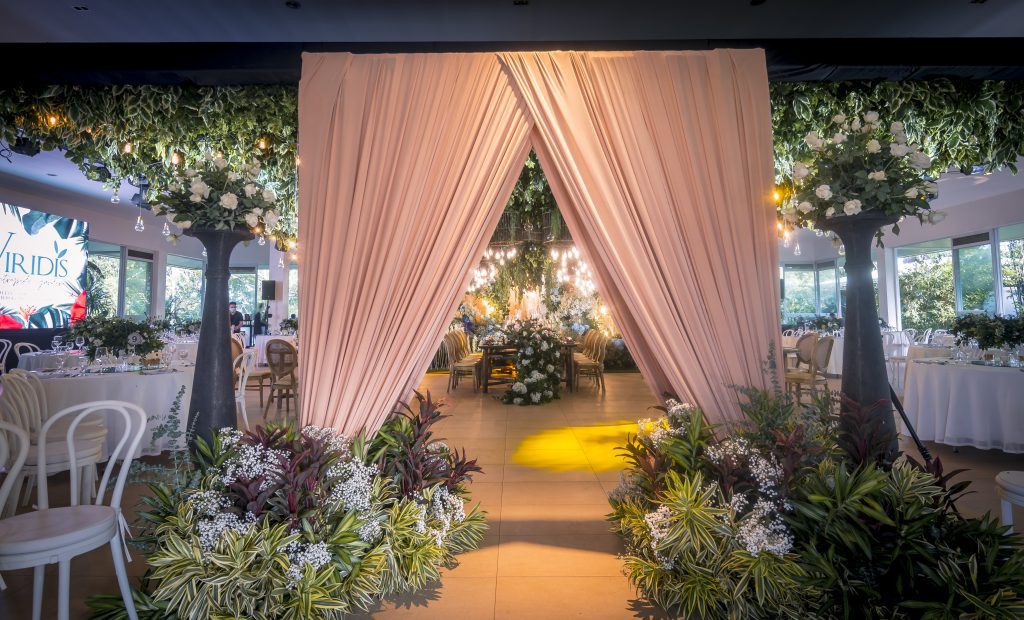 1. Garden Party
First on our list of bridal shower ideas, a garden party is a great way to bring a little of the outdoors in for a wedding shower while still enjoying all the luxuries of an indoor space.
Decorate:
Create a lush, vibrant garden oasis in our beautiful space with lots of flowers, potted plants, and floating candles. You can also create centerpieces with fresh blooms. You can also use bright colors like pink and yellow to create a fun and cheerful atmosphere.
Serve:
Serve light refreshments like tea sandwiches, fresh fruit salads, quiches, tarts, and other delicate desserts, giving off major spring vibes and fitting perfectly into the theme. And don't forget about the drinks—have a mimosa bar ready for guests to enjoy throughout the afternoon.
Dress:
Have your guests dress in their garden best with flowy dresses, bright colors, and large hats.
If you're looking for bridal shower ideas with a more vintage look, use vintage décor pieces like wooden crates filled with flowers or rustic furniture pieces that add charm to any room without breaking the bank—your guests will love it (and so will Instagram!).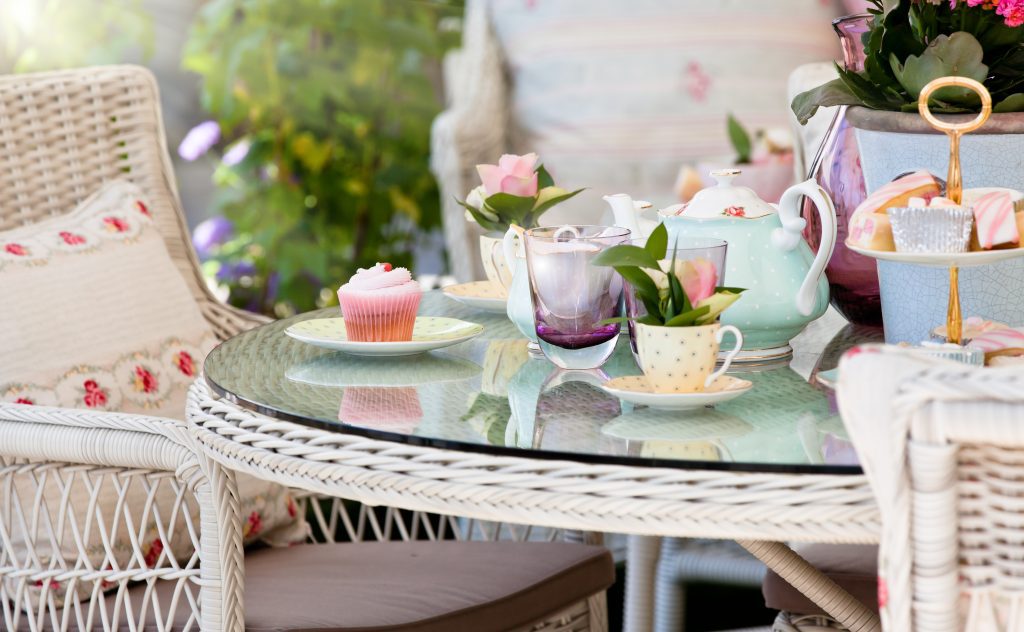 2. Vintage Tea Party
Who doesn't love an old-fashioned afternoon tea party bridal shower? Step back in time with this classic wedding shower theme with vintage charm that never goes out of style!
Decorate:
Create a whimsical yet cozy atmosphere with shades of pink or pastels. Set up vintage tablescapes littered with lace doilies, potted plants, and delicate teacups filled with fresh blooms. Don't forget the linens and china – they will help perfectly set the atmosphere for your vintage bridal shower!
Serve:
Bridal shower ideas with this theme are so much fun! You can serve an array of finger foods and sweet treats, like macarons, cupcakes, fresh fruit skewers, or mini quiches in teacups—so cute yet so delicious!
You'll want to provide a variety of tea flavors for bridal shower guests to try, and you can even add personalized touches like customized teabags as bridal shower favors! Set up high tea trays filled with delicate pastries and delectable tea sandwiches, scones, and pastries with clotted cream.
Dress:
Ask everyone to come to the bridal shower dressed in vintage clothing or tea dresses – they can even wear hats if they'd like! It will undoubtedly be a wedding party your friends won't soon forget!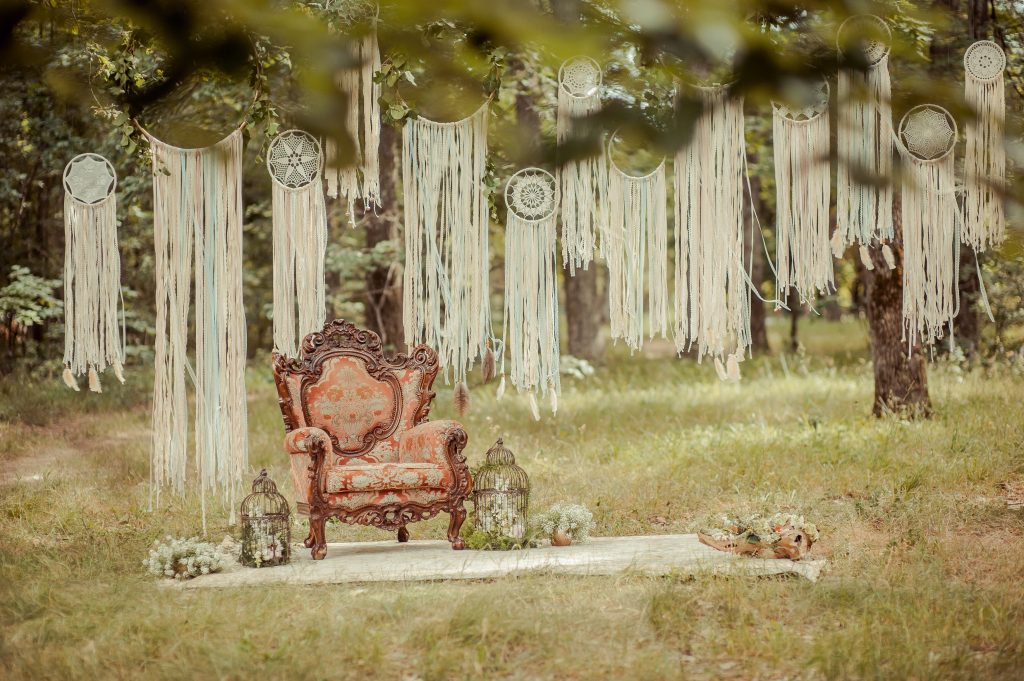 3. Retro New-Age Chic
Do you need bridal shower ideas for a bride who is a bit more modern? Try going for a bohemian-inspired look for your bridal shower. This free-spirited bridal shower theme is perfect if you want something more relaxed and laid back. Think tapestries, hanging plants, and lots of colors! You can also have fun with activities like flower crown-making or a craft station.
Decorate:
Incorporate natural elements like wood, succulents, and fresh flowers into your decorations, along with macramé hangings for a boho vibe that's both stylish and inviting. Set the mood with a rustic tablescape, or if you're ready to dive into this theme headfirst, think about opting for cozy pillows on the floor for seating and hanging lights for a relaxing atmosphere when opening gifts and socializing with friends. And don't forget the chill beats—set up a playlist of your favorite acoustic or indie tunes to set the vibe.
Serve:
For wedding shower food, you can choose something more casual, like homemade pizzas or tacos. You can even serve light refreshments like a grazing board of fruits, cheeses, crackers, veggie platters, salads, smoothies, and other snacks everyone will love. And remember to have delicious desserts like cake pops, cookies, and cupcakes to make it a real party!
You could also set up a station where guests can create custom cookies or cupcakes with various decorating supplies.
Dress:
Ask your guests to dress in their finest bohemian-style clothing and accessories to complete the look. They can wear anything from flowy maxi dresses to stylish jumpsuits! Then, add fun accessories like flowers in the hair, gold accents on jewelry, hats, and sunglasses for an extra special touch. They'll love the chance to get creative!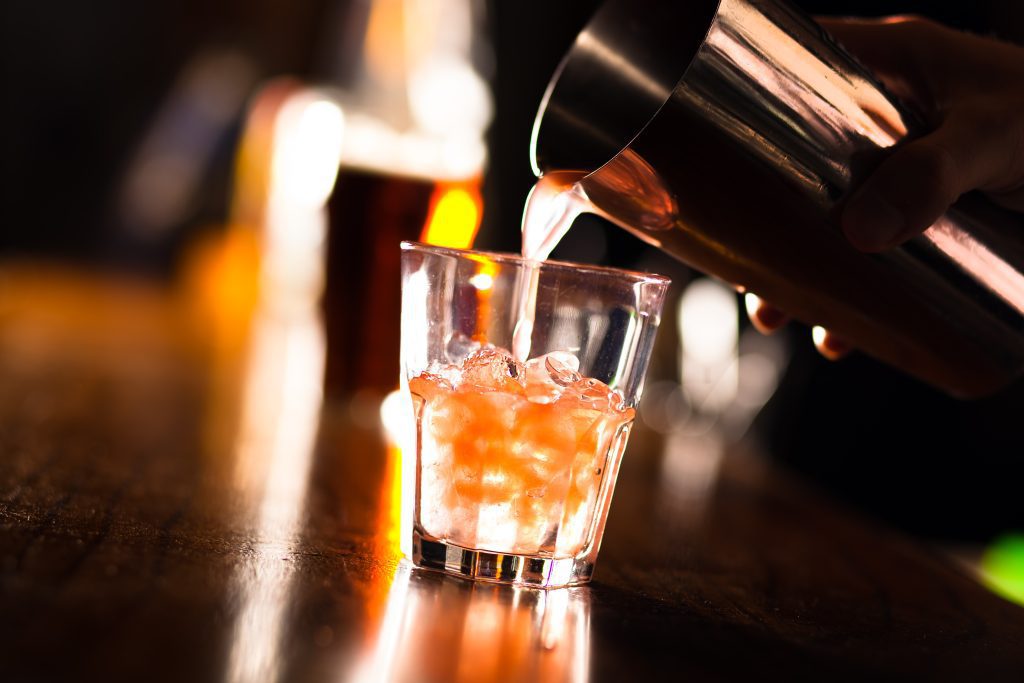 4. Classic Cocktail Party
Let loose as you celebrate the upcoming nuptials by hosting a classic cocktail party!
Bridal shower ideas for this high-class bridal shower theme include setting up stations featuring classic drinks like martinis or old-fashioned's, along with hors d'oeuvres such as cheese platters or sliders. As an added bonus for your guests, you can even hire mixologists for the bridal shower who can teach them how to make their favorite drinks from scratch!
Decorate:
Create an elegant atmosphere with dim lighting and luxurious decorations. Rent furniture pieces like leather couches, velvet armchairs, and cocktail tables to tie the vibe together. Have simple but chic centerpieces on each table containing fresh flowers or candles. Provide unique but comfy seating options like ottomans, poufs, and cushions to ensure everyone's comfort.
Serve:
For food, go for a more formal approach with mini bite-sized dishes that are easy to munch on. Think fancy hors d'oeuvres, sushi platters, and mini desserts like petit fours or macarons. If you want to keep it simple yet elegant, opt for charcuterie boards or cheese platters that people can enjoy while they mingle, sample delicious drinks, and celebrate the soon-to-be bride.
Dress:
Ask your guests to dress in their favorite and most glamorous evening attire to keep the classic cocktail party theme going. Encourage them to dress up with cocktail dresses, formal black-tie wear, or even tuxedos! They'll surely have a classy evening full of celebration and fun.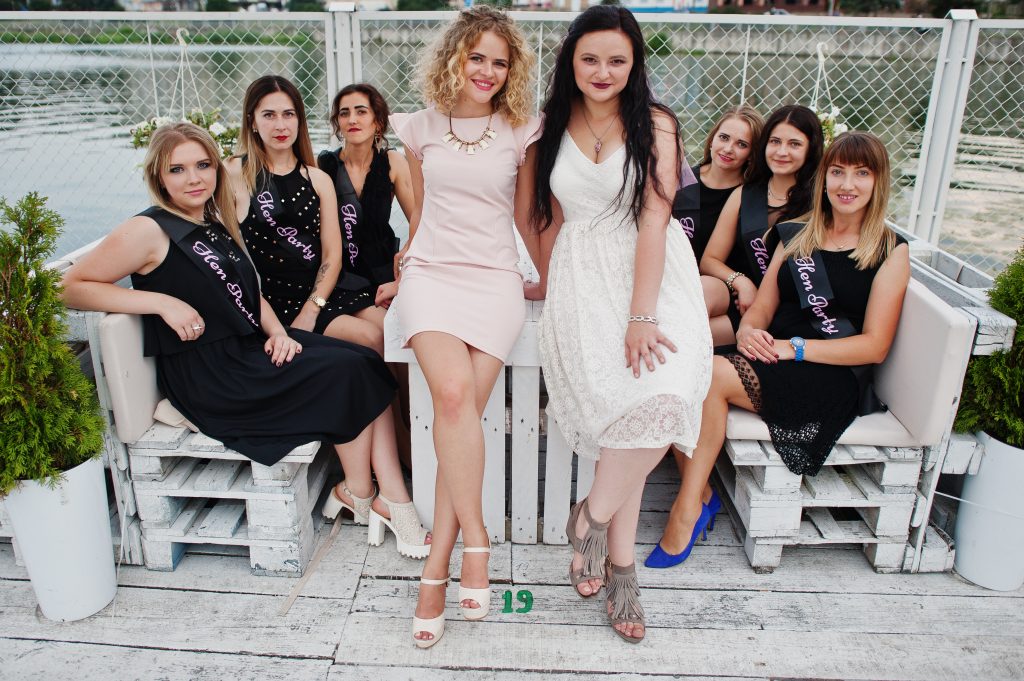 5. Beach Vibes
Bridal shower ideas to bring the beach indoors with bright decor and refreshing summer drinks!
Decorate:
Use sandcastle centerpieces as table settings, colorful beach balls filled with helium for balloons, and ocean-inspired bridal shower decorations to transform the space.
Serve:
Serve beach-inspired refreshments like fruit punch, mini lemonades, or even cocktails in mason jars if you're feeling adventurous. Bridal shower food ideas for a beach wedding shower theme include a seafood spread with crab legs, fish tacos, shrimp cocktail, and other ocean-inspired bites. Or, if you prefer something a little more laid back for the bridal shower, opt for a seafood taco bar or sliders with sides like chips and salsa.
Dress:
Make sure guests are dressed for the bridal shower theme by asking them to come in their beach best! Encourage them to dress up with flip-flops, an airy summer dress, and even a sunhat. They'll love showing off their style and getting into the beach vibe!
For a unique bridal shower party, have fun bridal shower games like beach-themed bingo or seashell ring toss set up around the room. Aside from party games, you can also set up a DIY station with shells and craft materials for guests to decorate their own souvenirs.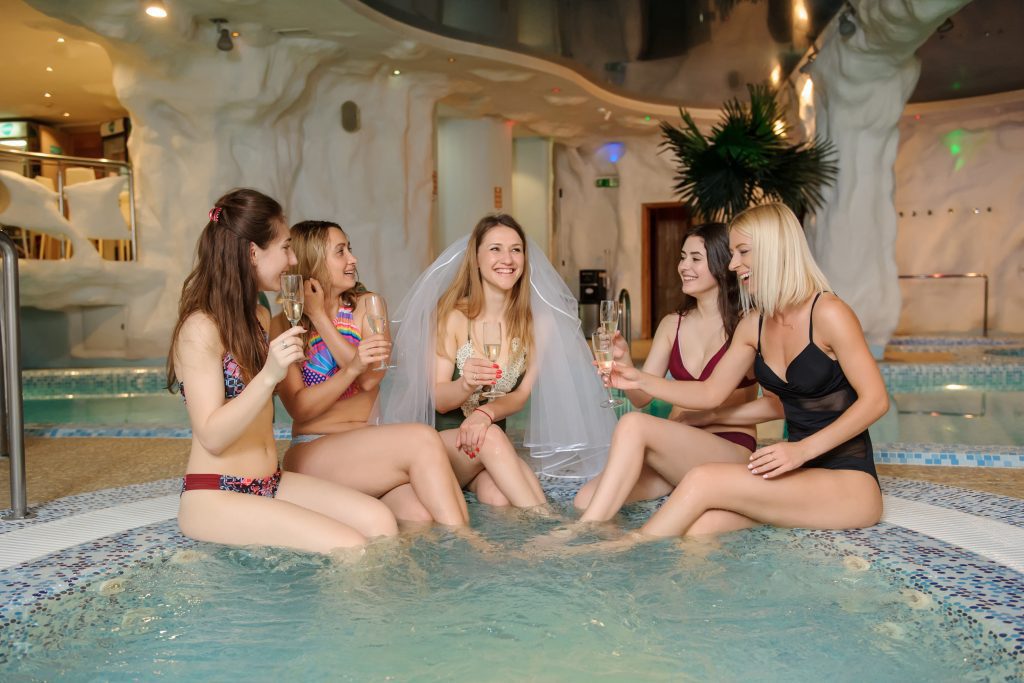 6. Pool Party
Enjoy all that summer has to offer by throwing your bridal shower poolside!
Decorate:
Bridal shower theme ideas for decorations include using bright and colorful beach towels draped over lounge chairs or hung up on poles around the pool area in plain view for guests' arrival. (Bonus points if you can have custom beach towels created for the wedding shower with the to-be wed's last name or initials printed on it!). You can also use helium-inflated beach balls as balloons, hang custom-printed flags that say "Mrs. & Mr. ____," streamers in the colors of the to-be wed's wedding theme, and inflatable pool toys to add a festive touch and create the perfect bridal shower for the bride that loves the summertime.
Set up lounge chairs around the pool area so everyone can relax in style as they sip on their drinks or take a dip in the pool if they wish, and a spot where your guests can take pictures in front of a sparkly backdrop or hang string lights to make the night really special.
Fun games like pool noodle ring toss, pool volleyball, or even a Marco Polo game will surely get everyone in the festive spirit. Then, set up a bar station with frozen cocktails that guests can enjoy poolside (including recipes for non-alcoholic versions!).
Serve:
Remember themed bridal shower snacks! Serve tasty treats like sliders, fruit platters, chips & dip, salsa, and guacamole that won't weigh people down as they enjoy the pool. To keep it light and refreshing, you can also set up a few different salads for your guests to help themselves, including pasta salads, fruit salads, and even quinoa salads. Finally, have a sundae bar with all the fixings, ice-cream floats, mini fruity pies (preferably from a local bakery), and popsicles for dessert. These will be surefire hits, especially on those hot days!
Dress:
To get your guests into the pool party mood, ask them to come in their favorite swimsuits or cover-ups so they can easily jump into the pool once everyone's there. You can also offer beach towels for those who forget theirs and provide a basket of sunglasses, hats, and sunscreen for people to grab when needed.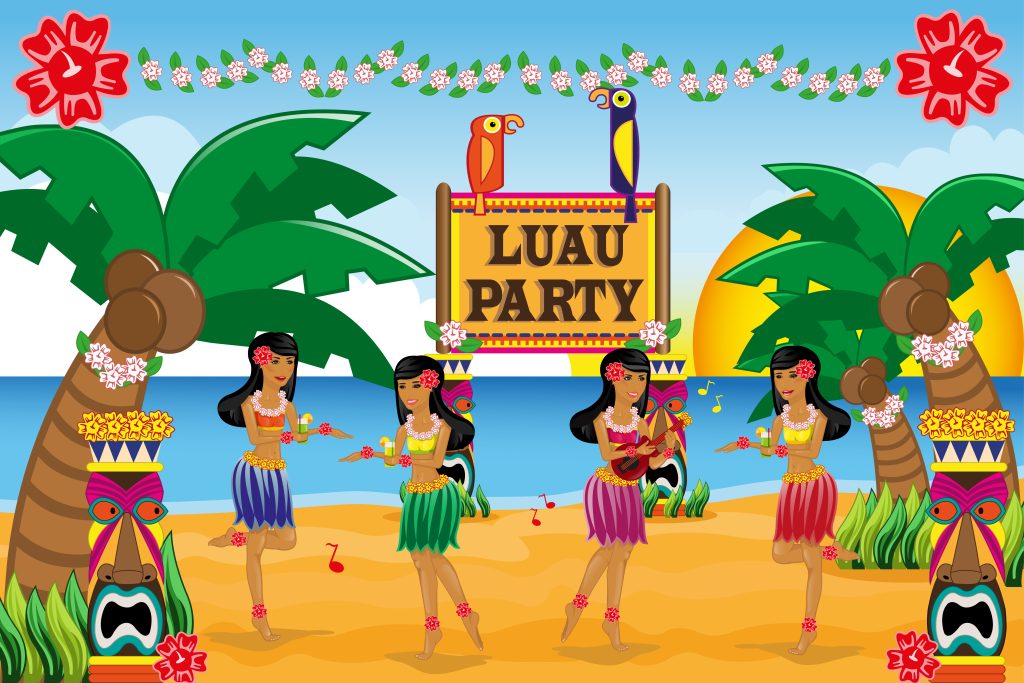 7. Hawaiian Luau
Another bridal shower idea with a summer vibe would be to turn your bridal shower venue into an island paradise where leis replace corsages, and delicious pupu platters replace traditional hors d'oeuvres. Take inspiration from tropical locales as you host a party that bridal shower guests will never forget, complete with tiki torches, leis, and island music!
Decorate:
Decorate your space with tiki torches, beach-inspired lanterns, and even inflatable palm trees or paper pineapples for a fun touch. Hang string lights around the venue or print custom banners that say "Aloha Bride!" or "Let's Luau!" Create an incredible photo booth area with a backdrop of tropical plants. Don't forget props like grass skirts, flower headbands, and even a few tiki masks for guests to wear as they take pictures!
Serve:
Bridal shower food ideas could include traditional dishes like Hawaiian fried chicken, teriyaki beef skewers, or even a poke bar. Serve tropical drinks like mai tais, and pina coladas in fun custom cups guests can take home as bridal favors. Adding edible flowers to the menu (or even an edible flower bar with the bride's favorite varieties) is one of the best bridal shower ideas for this theme, as it adds a beautiful touch to a unique bridal shower that will wow your closest friends when they make (and eat) their own bouquets!
Remember to provide refreshing non-alcoholic drinks that match this fun theme, such as tropical punches or coconut water, to keep close friends who are non-drinkers hydrated and happy.
Dress:
Have guests don flower crowns, grass skirts, colorful shirts, flip flops – whatever makes them feel like they're participating in an authentic luau worthy of celebrating such a momentous occasion! And remember the Hawaiian music – you can even find custom playlists on YouTube or Spotify that will get everyone in the mood for a fun-filled day.
Finally, send your guests home with something special like leis or other beach-themed bridal shower favors to remind them of the night's festivities. This is an excellent opportunity to give out small succulents or succulent planters, beach-themed soaps, and even personalized flip-flops with the wedding date on them.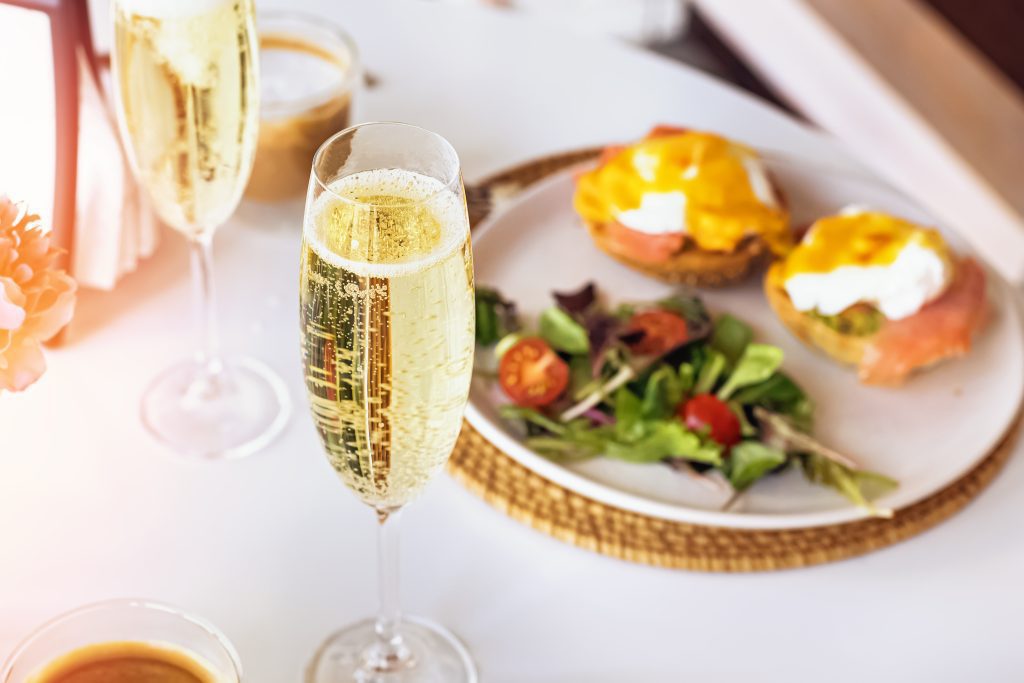 8. Brunch & Bubbly
Brunch is an excellent time for a bridal shower!
Decorate:
Bridal shower ideas to set the mood for brunch bridal showers include decorations like a beautiful centerpiece of flowers, candles, and succulents. To show the bridal party how much the bride appreciates them, consider hiring a live floral designer to create custom flower arrangements for the bridal party that can be taken home as bridal shower keepsakes! You can also hang paper lanterns or string lights around the venue to give it an elegant feel.
Serve:
Make a brunch shower theme extra special by creating a mimosa bar with different flavors of juice, sparkling wine, and champagne for guests to choose from. Create a custom menu with omelets, bacon and sausage, quiches, French toast, and a pancake or waffle bar – and remember delicious fruit toppings and sauces. Set up a dessert table with an array of delicious pastries like croissants, muffins, and scones, or opt for a doughnut bar as an alternative to cake.
Dress:
Bridal shower guests can dress in their favorite brunch attire – think colorful sundresses, skirts, white jeans, a nice top, floral patterns, and a hat or fascinator for the soon-to-be bride! As a special touch, provide custom champagne flutes with the bridal party's names on them that they can take home as reminders of how much fun everyone had at the bridal shower.
Consider setting up a few fun games like trivia or bridal mad-libs for entertainment. The bride's closest friends and family members will love a chance to break the ice and have a little fun! Depending on what kind of vibe you are going for, you can spice things up with live music or even karaoke! Your wedding shower is sure to be all the rage!
Mimosas or Bloody Marys can complement the entire event – after all, it is brunch time!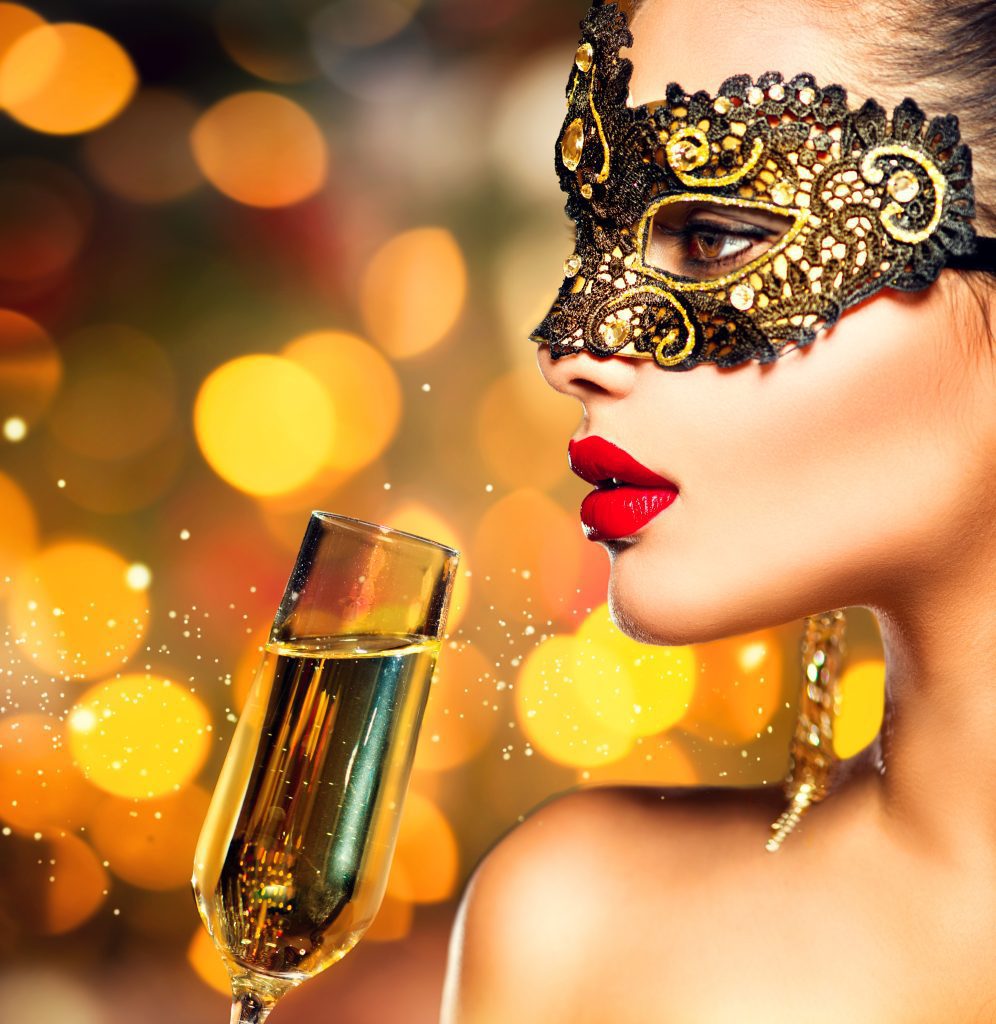 9. Masquerade Ball
Hosting a masquerade ball will make your bridal shower truly unforgettable for any family member or close friend on your guest list!
Decorate:
Make it mysterious but still show-stoppingly glamorous by hosting the wedding shower in a venue with a glamorous ballroom space! Decorate with candles, lace tablecloths, and ornate masks throughout the room- everything you would expect from this classic event theme. Your wedding shower guests will step into another world once you've transformed your venue into an opulent ballroom fit for royalty!
Serve:
Serve light refreshments throughout the evening—mocktails, anyone? Or go all out with decadent hors d'oeuvres and signature cocktails served late into the night!
Dress:
Encourage guests to come dressed in their fanciest creative interpretations of black tie attire, with a twist, using masks or face paint designs as part of their attire to add some mystery to the proceedings!
You could also set up a table with all the materials to create unique masquerade masks that can be taken home as favors! Besides being entertaining, a mask "bar" can help give your wedding shower a more relaxed vibe by providing a creative outlet and something fun to do while conversations happen and guests get to know each other before the wedding day.
Make sure you have plenty of unique materials for your guests to use, like paint, glitter, feathers, sequins, rhinestones, and any other craft supplies that would match the wedding shower theme. You can also offer pre-made masks that guests can decorate and personalize to their liking (for the less creative people on your guest list.)
If you or someone you know is close friends with someone with a makeup class or two under their belt, consider hiring them for face-painting services! This will be a great way to incorporate the masquerade theme into your bridal shower and keep your guest list entertained!
Provide music or a dance floor so everyone can show off their best moves and celebrate in style! A photo booth can also be an excellent way for guests to remember the special occasion. Set one up so they can have fun with the masks they created! Masquerade ball bridal showers are sure to impress!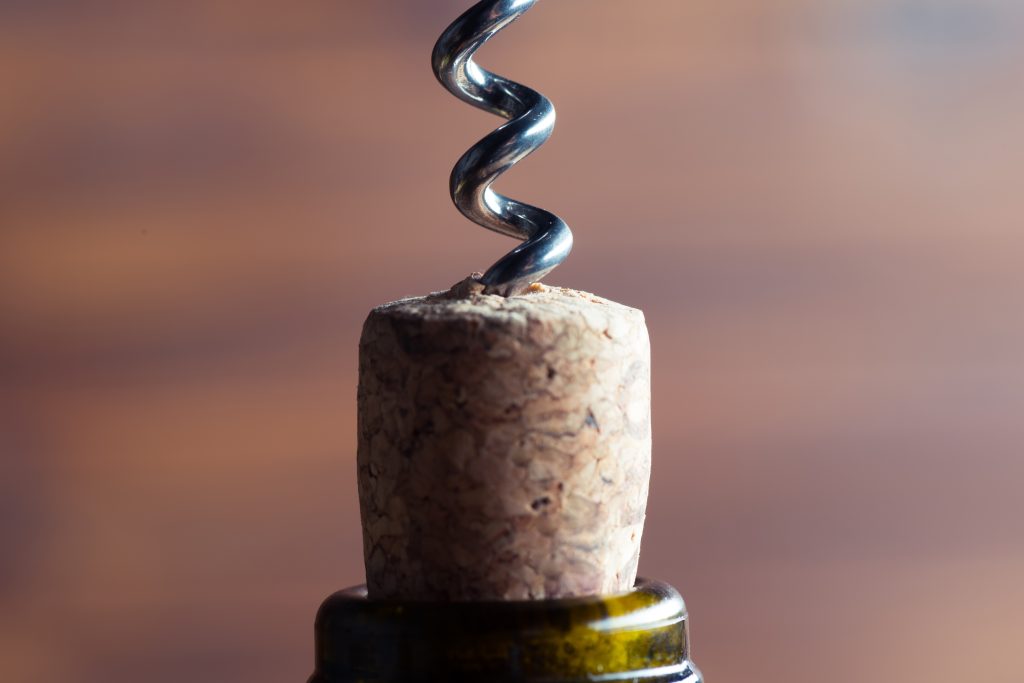 10. Wine-Tasting Party
Raise your glass to toast in honor of the bride-to-be at this sophisticated yet fun bridal shower idea! Wow your guests by hosting an exquisite at a gorgeous venue!
Decorate:
Decorations for wedding showers with a wine theme are so much fun to plan and can be incredibly simple. Hang strings of grapevines or wine bottles along the walls, set out customized corks for place settings, and use white linens with a pop of color, such as royal blue or burgundy, to tie it all together.
Serve:
Let each guest sample different wines & feast on hors d'oeuvres while enjoying the celebration in honor of the bride. Make sure to provide plenty of snacks like charcuterie boards, cheese plates, and crostini that pair nicely with red and white wine.
Set up small vignettes displaying various types of wines from different regions paired expertly with cheeses and fruits with a decorative note card explaining the flavor profiles, how to pair each type of wine and fun facts about its region or style. For an added touch and to keep the event interactive, you could even hire an experienced sommelier to talk about the unique characteristics of each bottle and food pairing suggestions while helping guide your guests through their wine journey – cheers indeed!
Dress:
Encourage bridal shower guests to dress in their most classy chic attire for a memorable evening of wine tasting.
Indulge in some of life's finer things as you host the perfect bridal shower for the wine connoisseur in your life! Wine-tasting bridal showers will be an unforgettable experience for the bride and her guests.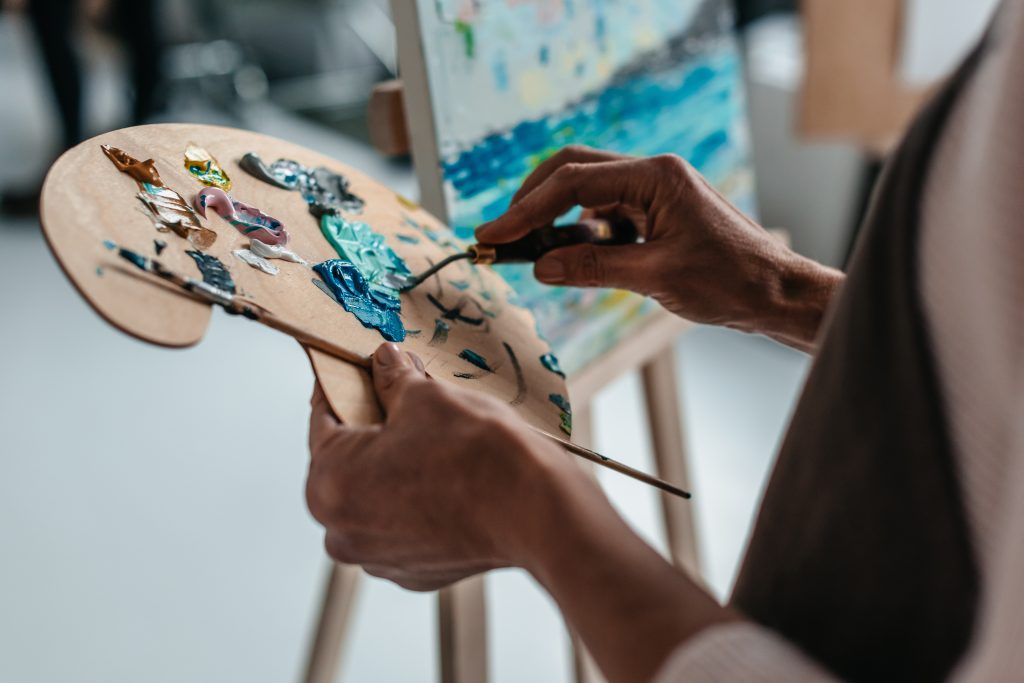 11. Paint & Sip Party
Get creative by hosting a paint & sip bridal shower party! Gather your guests and let their inner Monet come out on full display while they create an amazing masterpiece in honor of the bride!
Activity:
This fun bridal shower activity is excellent for novice painters and art enthusiasts alike. It allows everyone to take a break from the hustle and bustle of wedding planning, sit back, relax, and create something beautiful in honor of the bride-to-be!
Have local artists (novice or master, it makes no difference if the bride is having a blast!) teach guests the basics of painting with acrylic or watercolors. Then, leave it up to them to interpret what they want their final project to look like. Each guest can work on their masterpiece while sipping delicious drinks from the full cocktail bar menu and chatting with the bride—they can even choose from wedding-themed specialty cocktails created just for the bride for an extra dose of fun during this unique event idea!
Serve:
Bridal shower food should also be light and tasty to complement the painting atmosphere. The best bridal shower ideas for food at this type of party are easy finger foods like sliders, tacos, mini desserts that guests can easily snack on while they paint, and a dessert table filled with treats fit for a bridal shower!
Dress:
A dress code of "artistic apparel" or fun and creative bridal shower party wear will add a playful touch to the festivities. For some added entertainment, consider incorporating a music playlist to keep the conversation going as everyone paints away. And for an extra special touch, have someone capture the moments with photography or video!
Show off all the fantastic creations when the paintings are finished, and then each guest can take theirs home as a special memento! Paint & sip bridal showers are the perfect way to make memories with the bride-to-be while making beautiful art with old (and new) friends!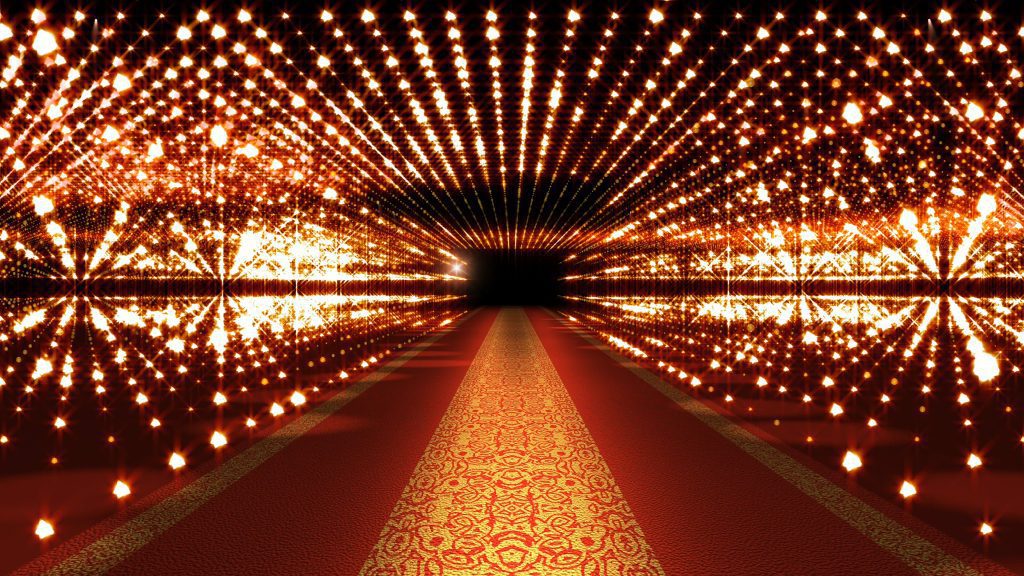 12. Hollywood Glamour Night
Get ready for a night full of stars when you throw a Hollywood-themed bridal shower!
Decorate:
Create the perfect ambiance for celebrating the bride-to-be with soft music playing in the background, fantastic catering, and an open bar. Set the mood by decorating your venue with small white twinkle lights or star-shaped confetti, large movie posters in old frames, and a red carpet leading to the party's entrance. Cocktails are a must at this type of gathering!
If you have enough space, consider setting up a seating area with white and gold lounge furniture to really give your guests that star-studded feeling, and if you're feeling extra creative, step it up a notch with themed party favors like mini Oscars or Golden Globes that guests can take home!
Serve:
Bridal shower ideas for food for this shower theme could include fancy appetizers like caviar, lobster tails, and oysters on the half shell. As for drinks, consider a fully stocked bar with house-made specialty cocktails to keep the night lively! Include fun activities to keep everyone entertained, such as trivia games with questions about the bride.
Dress:
Have all your guests dress as their favorite movie stars or celebrities as they walk down the red carpet together and pose for pictures in front of a custom photo wall backdrop. Make sure you have plenty of champagne on hand for this bridal shower extravaganza!
Step onto the red carpet for a glamorous night of glitz and glamour!
Host Your Bridal Shower at Premier Events Center
Brides-to-be deserve nothing less than an unforgettable bridal shower celebration that honors their special day — and you can give her exactly that when you host her bridal shower at Premier Events Center in Clinton Towhship, Michigan.
When planning a bridal shower, choosing the right theme is essential if you want it to go off without a hitch. From garden parties, tea parties, summer BBQs, pool parties, masquerade balls, wine tastings, and Hawaiian luaus – we can help you put together a theme and offer bridal shower ideas that are bound to fit your bride-to-be's style!
For a successful bridal shower event, make sure to add all the details to the bridal shower invitation. Everything from your bridal shower theme and accompanying dress code to time and location can help avoid any issues and ensure the guests have a great time!
PEC is the perfect place for a fun-filled bridal shower your guests will never forget. Premier Events Center offers two unique and beautiful ballrooms to make any event memorable. The Valentina Ballroom can seat up to 340 guests in its classic vintage mahogany wood with a private entrance, bathrooms, and bar so you can enjoy your special day without disruption. For more intimate gatherings such as bridal showers, the Bella Amore' Ballroom is ideal, with seating for 110 guests in a modern boutique interior and, again, a private entrance, bathrooms, and bar.
Once you have all the details in place, consider adding themed decorations and other special touches to your venue. From centerpieces and balloons to music playlists and photo booths – we can make sure you get it all! At Premier Events Center, we will ensure your bridal shower is remembered and cherished by all who attend.
With any luck, these 12 unique themes have given you plenty of bridal shower ideas—but don't forget we're always happy to offer suggestions for a successful event should the host or the bride need them! Contact us today!
Congratulations & best wishes to the to-be-weds!