Funerals can be difficult, but they don't have to be sad. A funeral luncheon is a way for friends and family to celebrate the life of the person who has passed away and comfort the bereaved. If you plan a funeral luncheon in Michigan, Premier Events Center in Clinton Township can help make the process easier during this difficult time.
When you lose a loved one, the last thing you want to worry about is planning a funeral luncheon. Let Premier Events Center take care of the details so you can focus on grieving. We have years of experience in hosting funeral luncheons. We will work with you to make sure everything is perfect as you, your friends, and relatives celebrate the life of your loved one.
Read on for a step-by-step guide on how to plan a funeral luncheon at Premier Events Center.
1. Contact Premier Events Center
When you are ready to begin planning the luncheon after your funeral service, the first step is to contact Premier Events Center. You can reach us by phone at (586) 791-7760, email at sales@premiereventscenter.com, or visit our website and fill out a detailed general inquiry form for us to reach out to you.
We are happy to answer any questions you have about our facilities, services, and the process of planning a funeral reception luncheon.
2. Schedule an Appointment to Meet With Us and Tour Our Facility
During your initial contact with us, you will need to make an appointment to meet with us in person and visit our facility. This will provide you with the opportunity to tour our event space and have a conversation with our organizers about your particular requirements and the resources that we have available that may suit your needs.
We understand that you may not be ready to make decisions about the funeral luncheon immediately after the death of a loved one. That is why we offer a variety of flexible scheduling options to meet with us. Contact our team to discuss what will work best for you.
3. Discuss Logistics
During our meeting, we will review the logistics of your event, which will include the following topics:
Headcount
How many people do you expect to attend the funeral luncheon?
When establishing the total number of visitors for your funeral reception luncheon, it is crucial to consider both direct family and extended family (including children) and any friends of the deceased that will be invited.
Time of Funeral
To determine the time that your funeral luncheon begins, we will need to know the time of the funeral service. The luncheon should start either immediately after the funeral service or within a few hours of the funeral service conclusion at the very latest.
Estimate when you intend to leave the funeral home and factor in any stops along the way to the venue.
Choose a Room
We have two stunning rooms at Premier Events Center that you may utilize for your gathering. Our Bella Amore Ballroom is an intimate space, yet it still has the capacity to host up to 110 guests. Our Valentina Ballroom is the larger space at our venue, with the capacity to host up to 340 guests. We may have to consider using both rooms if you anticipate having a very large gathering of friends and family members.
Menu Selections
Once you have the date, time, and headcount set, you can start planning the menu. 
Premier Events Center offers a variety of catered meal options to choose from. We have something to please everyone, from brown sugar glazed ham with pineapple to our Premier Meatballs, including Swedish, Teriyaki, Italian, and Ranch meatball varieties!
We also offer food options not on our standard memorial service menu: entrees, hors d'oeuvres, salads, vegetables, starches, and desserts. If you don't see something on our menu that you're looking for, please don't hesitate to ask. We can accommodate most requests. We will work with you to create a catered menu for your luncheon that is delicious, appropriate for the occasion, and fresh out of our in-house kitchen.
Our kitchen staff is experienced in preparing food for large groups. If you have any dietary restrictions or special requests, please let us know so that we can make the necessary accommodations.
Floor Plan Layout
White table linens and the floor plan of your choice will be provided to you as part of the memorial luncheon package. In addition, we will collaborate with you to find the ideal layout for your occasion, taking into account the number of guests that you anticipate in attendance.
4. Put Down a Deposit
Although the vast majority of our customers opt to put down a deposit when they come in for their appointment, our policy does not mandate that those planning memorials do so.
We know that this is a challenging time for you and your family. Therefore, our objective is to make the planning process as stress-free as possible. That way, you are free to spend this time grieving and receiving the support of your loved ones. At the same time, you can laugh and cry over treasured stories and fond memories, secure in the knowledge that their farewell is being taken care of by professionals.
5. Clients Have Two Hours Before the Event Start Time to Come In and Set Up Their Own Décor
You and your family members are more than welcome to set up any decorations or memorabilia that you want to show off during the luncheon. To ensure that you have plenty of time to set up, we will make the event space available to your group two hours before the time that your luncheon is scheduled to begin.
People will frequently opt to bring in centerpieces, photographs, or other items for display that were meaningful to the departed person in their own way. This is a fantastic opportunity to put your own spin on this final celebration of your loved one and give it a one-of-a-kind feel.
Be sure to let our staff know while you are arranging the floor plan if you require a table to set up as a remembrance table (or memory table) and where you would like it so that we can accommodate your requests.
6. Relax and Let Us Handle the Details
After you finish with all of the necessary arrangements, you can take a step back to grieve while we take care of the specifics. We will take care of everything, from the catered food to setting up your tables and chairs, dressing them with clean linens, and even cleaning up afterward so that you can focus on what is most important: celebrating the life of your loved one after their death and remembering all of the joy they brought to the world during their life.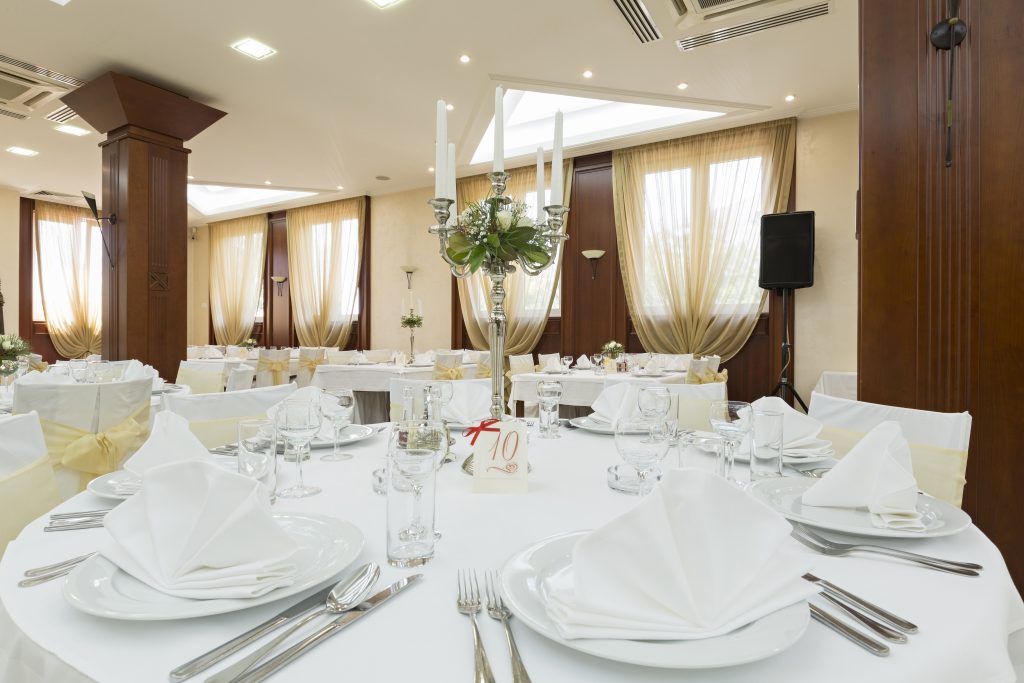 Choose Premier Events Center for Your Loved One's Memorial Lunch
Planning a funeral luncheon can be daunting, but Premier Events Center is here to help. We have years of experience hosting memorial services, and we will work with you to make sure everything is perfect, from your food to our venue site.
If someone close to you has died, Premier Events Center would be honored to help you celebrate and honor their life.
Contact us today to schedule a consultation!